Maruti Suzuki rolls out its 15 millionth vehicle
Maruti Suzuki India Limited (Maruti Suzuki), Suzuki Motor Corporation's Indian subsidiary, has achieved 15 million accumulated production units.
Maruti Suzuki started its production from December 1983 with the Maruti 800, a model based on the Japanese Alto minicar. In the following year, the Omni (based on the Japanese Every minicar) was added to the model lineup. Since then, the company has introduced models such as the WagonR, the Alto, and the Swift to achieve 10 million accumulated production units in March 2011.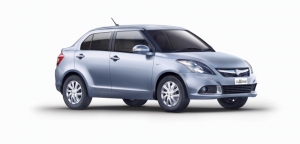 In the recent years, diesel engine variants were introduced in addition to the gasoline vehicles to suit the Indian market, along with models such as the Ertiga, the Celerio, and the Ciaz. 15 million accumulated production units was achieved in 31 years and 5 months since the start of production from December 1983, and in just 4 years and 2 months since achieving 10 million units in March 2011. The 15 millionth vehicle was a Swift Dzire, a sedan variant of the Swift.
Maruti Suzuki vehicles are produced at the Gurgaon and the Manesar plants, both located in the vicinity of New Delhi. FY2014 production results at those plants were 1.3 million units. To meet the ever-growing Indian market, Suzuki is constructing a new plant in Gujarat which will have an annual production capacity of 250,000 units. With this, the annual overall maximum production capacity in India will be 1.75 million units.
Milestones of production units
| | |
| --- | --- |
| Start of production | December 1983 |
| 1 million | March 1994 |
| 5 million | April 2005 |
| 10 million | March 2011 |
| 15 million | May 2015 |