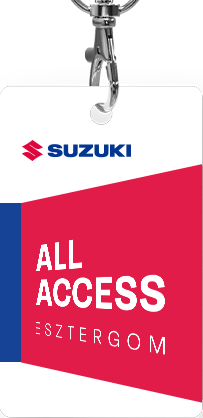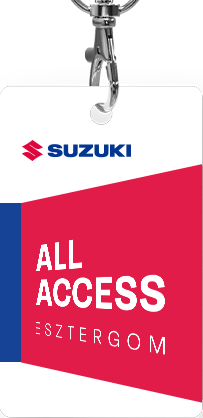 SX4 S-CROSS for the best driver!
Great S-Cross Challenge a major success Nearly 100 drivers contested on Saturday for Suzuki's newest family crossover at Budapest's Millenary Park. György Kántor won the contest, completing the race course almost 7 seconds ahead of his competitors.
Suzuki decided to award the best driver with a SX4 S-Cross. The preliminaries took place for several months, with over 1,300 ambitious contestants who had signed up to the hugely successful driver's challenge by the May 21 deadline. In the first round, Suzuki brand dealers invited participants to an easy driving skills test, followed by an online quiz that the nearly 1,000 contestants had to fill out correctly to complete the second round. The top scorers, two from each dealership, adding up to a total of 94 contestants nationwide, secured their participation in the finals. The main prize was awarded on Sunday, 24 May, 2014 to the winner of the Great S-Cross Challenge's final show-down held in Budapest's Millenary Park on a test track built specifically for the event.
Finalists had to complete five tasks on this 'playground for adults', putting their driving techniques and skills to a thorough test. The winner, György Kántor had an effortless control of the vehicle, whose fine steering response, good directional stability and maneuverability as well as its crossover running gear helped contestants in performing the tasks. The car's spacious cab and large luggage compartment also had a part to play in the test, which also included playing with a ball behind the steering wheel, driving along a k-shaped plank track and balancing the car on a see-saw. "We are very happy with the main prize because there will soon be a new arrival in the family," the winner said. "I entered the competition because we were looking for a family car."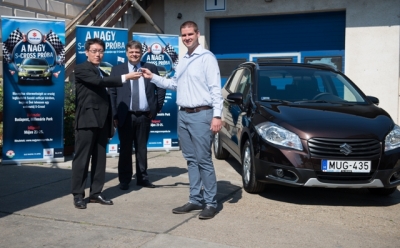 "Suzuki has opened a new class with the S-Cross," Suzuki's marketing director János Hársfalvi said at the event. "It combines the advantages of popular city crossovers, station wagons with a sizeable space inside, and comfortable SUVs" he pointed out. "It is a multi-purpose car with such a wide range of possible uses that make it a real family car. Importantly, its 1.6-liter petrol engine consumes as little as 5.5 liters in combined cycle, it is highly reliable and has an outstanding safety package. Even the base trim level includes 7 airbags, and the car's 5-star Euro NCAP rating also speaks for it. We have organized the Great S-Cross Challenge to make it possible for the highest possible number of people to test the S-Cross, as the driving experience it provides is convincing for everyone. Congratulations to the winner! We wish him lots of pleasure driving his new Suzuki SX4 S-Cross."