New Suzuki brand dealership opens in Esztergom
After three new brand dealerships launched in Hungary last year, Suzuki has now opened a new dealership—this time in Esztergom. Suzuki aims to increase sales to private customers, and also to boost fleet sales with the S-CROSS. The new dealership, Suzuki Világ is meant to serve customers in the Komárom-Esztergom region.
Suzuki's long-term sales strategy is different from its competitors'. While offering fleet buyers alternatives that are high quality but also practical, fuel-efficient and environmentally friendly, it also continues to hold private customers in high esteem. Enjoying high popularity among private buyers traditionally, Suzuki's objective is to continue to have the largest possible share of the minicar market in private sales.
Suzuki sees the opening of the new dealership in Esztergom as a sign promising an increase in sales. The Esztergom store is the second outlet of Budaörs-based Suzuki Világ, established in 2006, a dealership that adopted the Japanese style in selling, based on courtesy in customer service, with the customer in focus. The dealership's sales figures also demonstrate its excellence: over the past few years, it has consistently been among the top performers in private sales as well as fleet sales.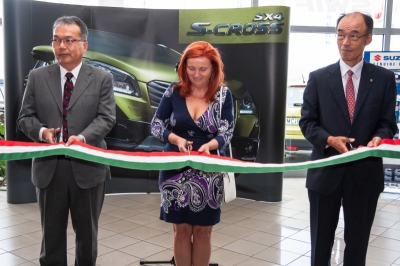 At the official opening ceremony, Suzuki Világ's managing director Akira Watanabe, Esztergom Mayor Éva Tétényi and Magyar Suzuki Corporation CEO Ryoichi Oura cut the red-white-green ribbon together. The traditional Japanese cat figurine, waving its left paw, was also presented to the store as an indispensable part of the opening ceremony. According to Japanese tradition, the cat's waving paw attracts customers, business and money, that is, it brings good luck to the owners.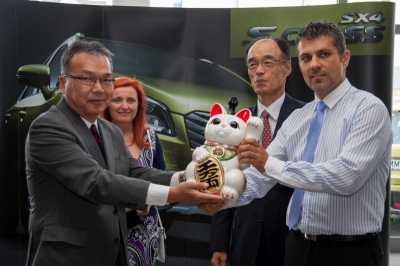 The keys of the first car sold by the dealership, a 1.6-liter GLX AC CD SX4, were presented to the buyer by Suzuki Világ's sales director Gábor Keszthelyi. Naturally, the car was made on Magyar Suzuki's assembly line in Esztergom, and its owner is also a resident of the city.