SV650X ABS
Cafe Racer Style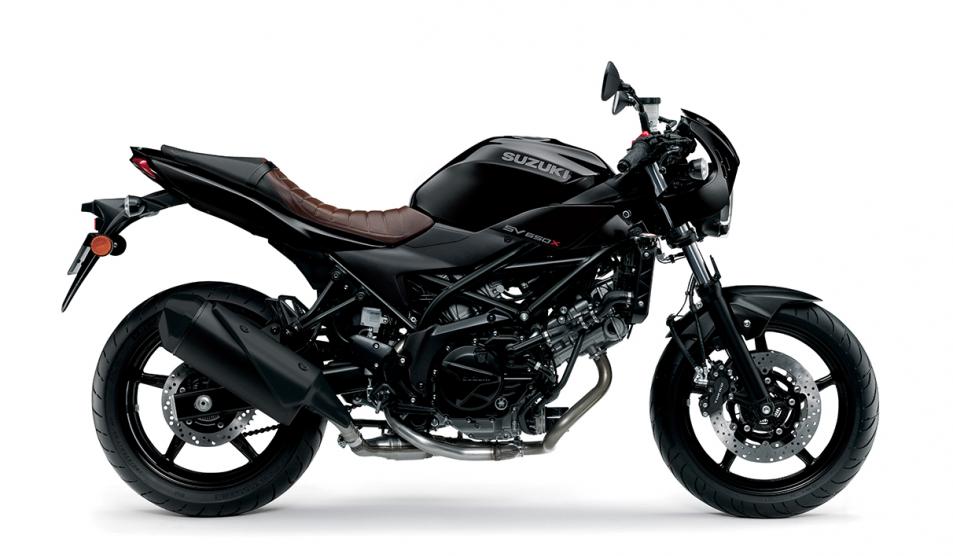 2 299 000 HUF

Cafe Racer Style
RIDING PLEASURE UNLEASHED
Climb aboard, turn the key and head out to any road you choose. The SV650X is at home on all of them – bringing café racer cool to wherever you go. So grab the key, take command and feel your heart beating in time with the powerful pulse of the V-Twin engine.
Driving licence category
A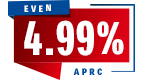 *The information is not exhaustive. Please contact our dealers for further details. Financing is provided by Merkantil Bank Zrt. in the form of a HUF-based, closed-end lease construction. The construction is subject to a compulsory, fully comprehensive Casco insurance, with Merkantil Bank Zrt. as the beneficiary.
2 299 000 HUF
Locate the nearest dealer to you
Dealers
Main features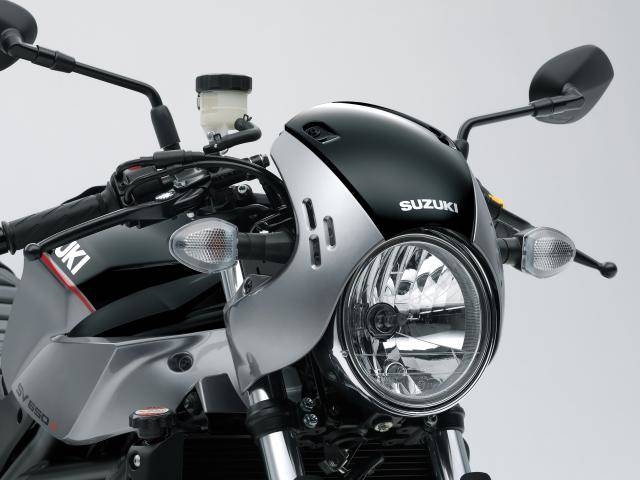 Stylish Slotted Headlight Cowling
The round multi-reflector headlight is equipped with a stylish headlight cowling. Slots in the headlight sides are reminiscent of heritage racers, accentuating the SV650X's personality.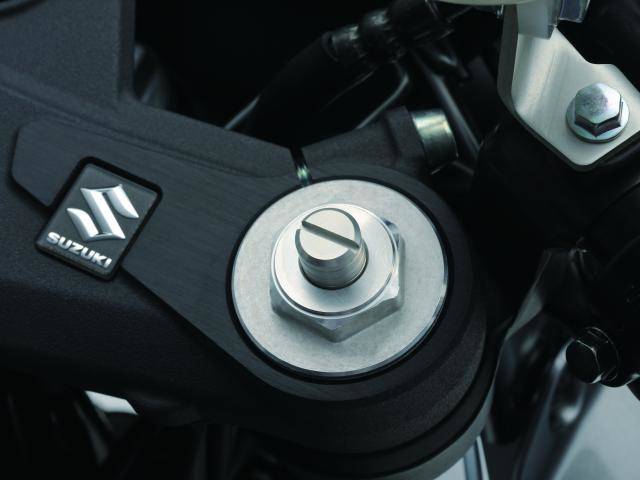 Front Preload Adjuster
Front forks are equipped with a new Preload Adjuster, allowing you to set suspension firmness for exactly the way you want to ride.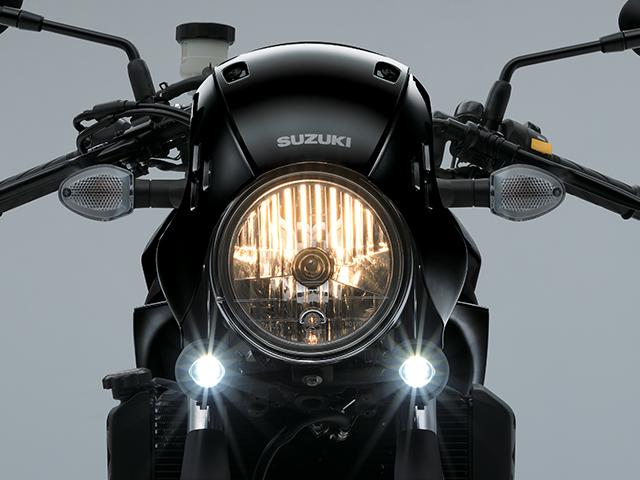 Optional Fog Lamps
The LED fog lamps match the stylish headlight cowling, highlighting the SV650X's intense character. The lamps feature high brightness LED and superior light distribution characteristics.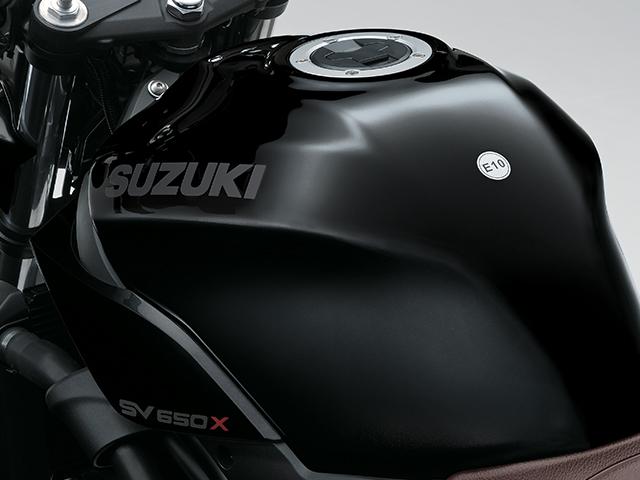 Fuel Tank
The tank's emblem has been changed from the signature "S" mark to the SUZUKI logo. The design has a definite retro look. Additionally, the tank capacity has been increased from 13.8L to 14.5L. Combined with the SV650X's excellent fuel efficiency, this substantially extends your riding range.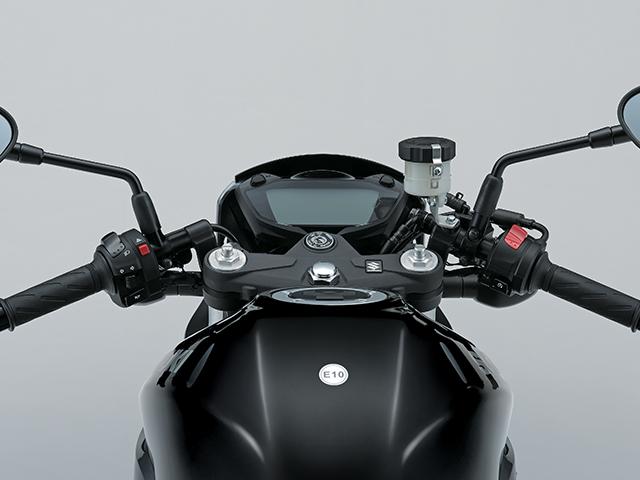 Clip-on Handlebars
Clip-on Handlebars encourage a sporty riding position, and hark back to the days of the original café racers.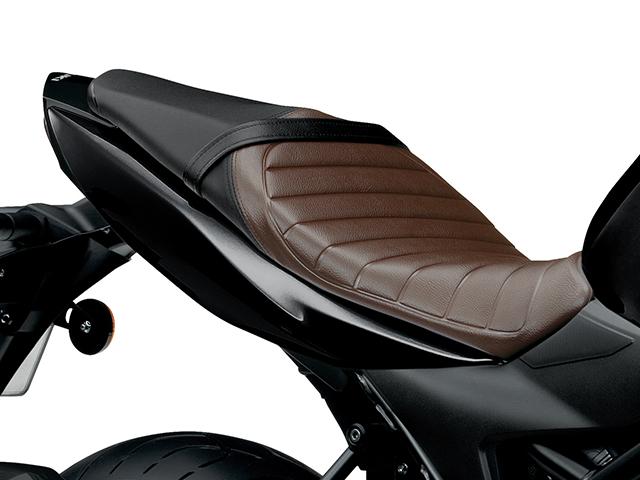 Tuck-and-Roll Seat
The narrow, streamlined seat exudes retro looks and feel. The seat has soft cushioning, helping reduce rider fatigue, even in a sporty riding position.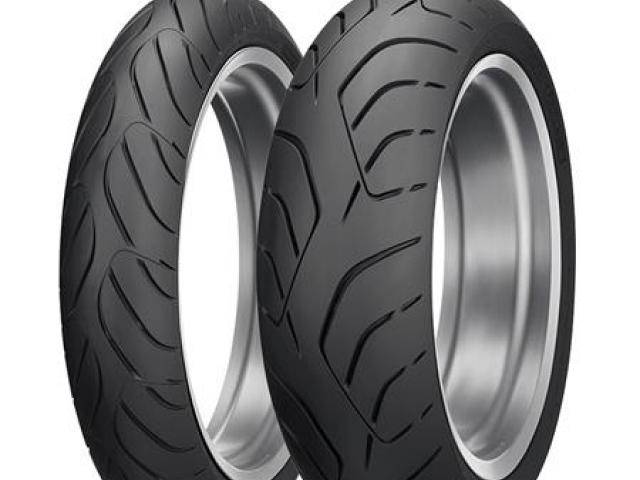 Tyres
The new SV650 adopts Dunlop Roadsmart III tyres. Well-grounded with exceptional performance in the wet, the Roadsmart III's assure confident handling.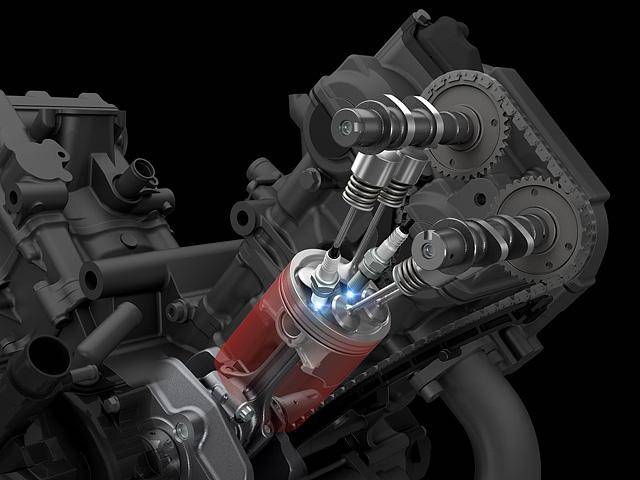 Dual Spark Technology
Suzuki's Dual Spark Technology utilises two spark plugs per cylinder for precision ignition. The result is increased combustion efficiency, smoother power delivery, lower fuel consumption and lower emissions.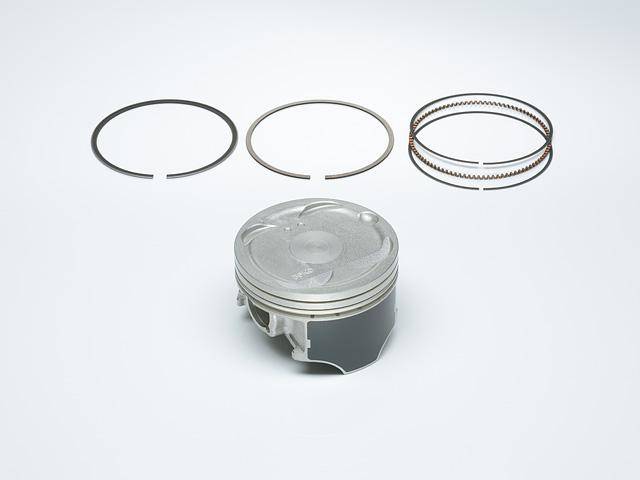 Pistons and Rings
In order to further improve overall fuel efficiency and emissions control, the V-twin- engine adopts two new innovations: resin coating on the piston skirt for minimised friction between the cylinder and piston, and a special L-shaped piston ring for enhanced seal performance and blow-by gas reduction.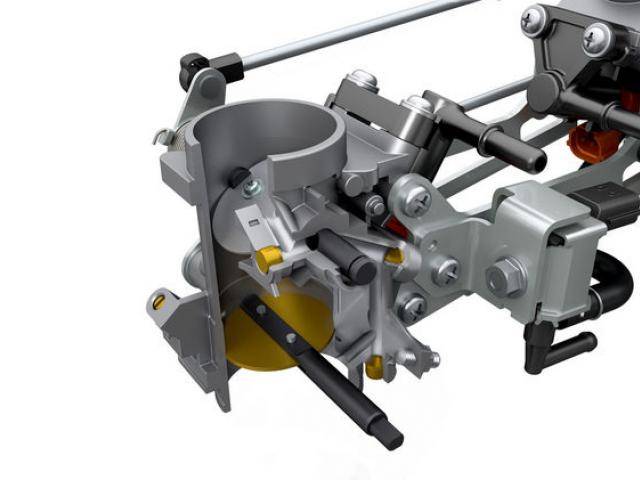 Low RPM Assist
The TI-ISC (Throttle body Integrated Idle Speed Control) has a Low RPM Assist control function. When moving off or riding at low engine rpm, the ECM activates the ISC system. By opening the ISC circuits, the engine rpm rises slightly. Normally, in launching the motorcycle, engine rpm drops when the clutch is engaged. Low RPM Assist helps the rider achieve a smoother launch operation in the low rpm range. This makes it easier to ride at low speed in stop-and-go traffic.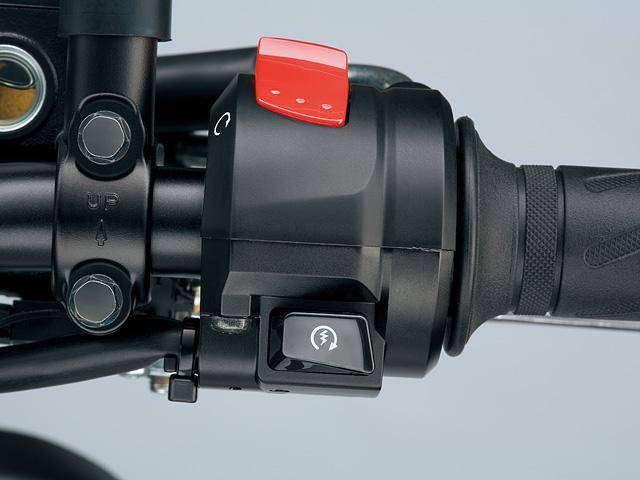 Suzuki Easy Start System
The Suzuki Easy Start System engages the starter motor at a precisely timed preset interval to start the motorcycle with just a push of a button. A computerised ECM checks the status and disengages the starter motor immediately after start.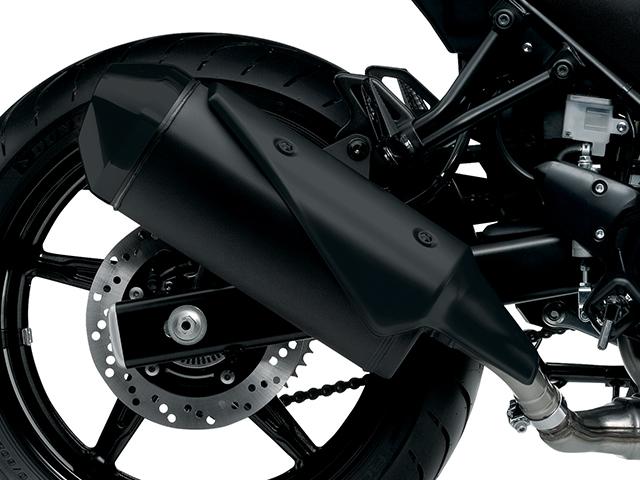 Exhaust System
The SV650X's advanced exhaust system has been redesigned to be lighter and more compact, while conforming to EURO4 emissions standards and delivering excellent power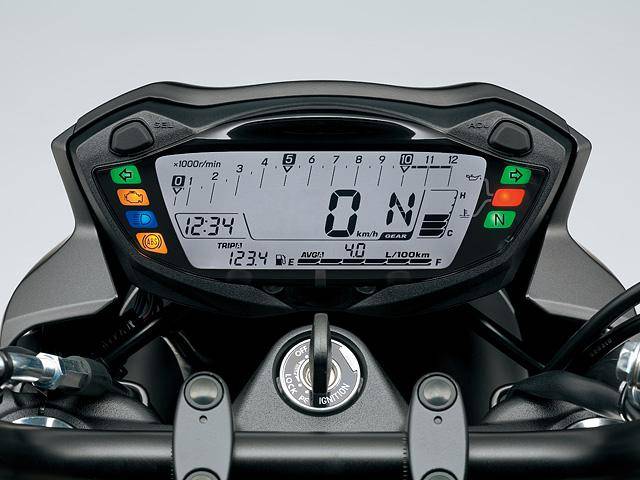 Full LCD Instrument Panel
A multifunction LCD instrument panel displays gear position, digital speedometer, tachometer, as well as indicators for odometer, trip meter, average/instantaneous fuel consumption, driving range, clock, water temperature gauge and fuel gauge. Backlight is adjustable in six levels of brightness and can be set to your preference.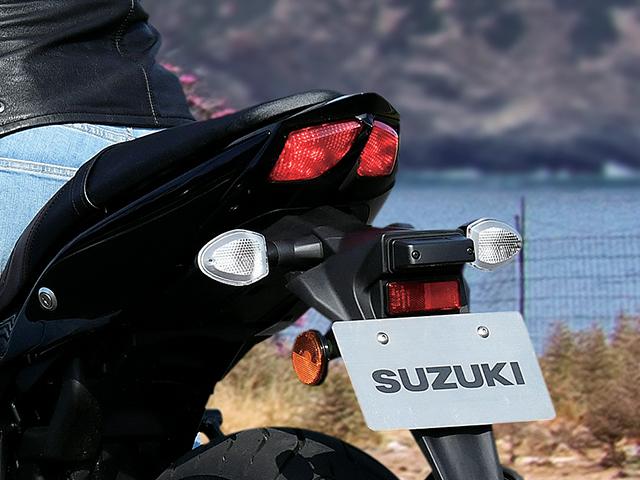 LED Tail & Stop Lights
An integrated twin-LED tail light and brake light configuration is compact yet slim. High-performance LEDs contribute to deliver excellent visibility and high durability, and makes for a sharp, sleek rear section.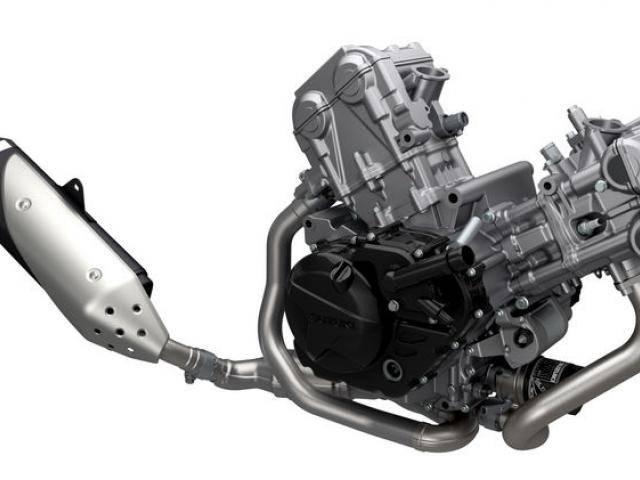 Dual Spark 90° V-Twin
The Suzuki V-twin engine is a marvel of engineering and superb versatility. While at lower RPMs, this engine delivers powerful torque that's easy to handle and a deep robust sound. Open the throttle to mid-range, and the power of the engine responds linearly and smoothly, yet always under your control. Finally at higher RPMs, the V-twin cruises with performance ready to go, even at higher gears.  The V-twin meets the latest EURO4 emissions regulations while achieving class-leading fuel economy (3.84L / 100km [26.05km / L] * ) and higher maximum output. *In WMTC mode measured by SUZUKI
Gallery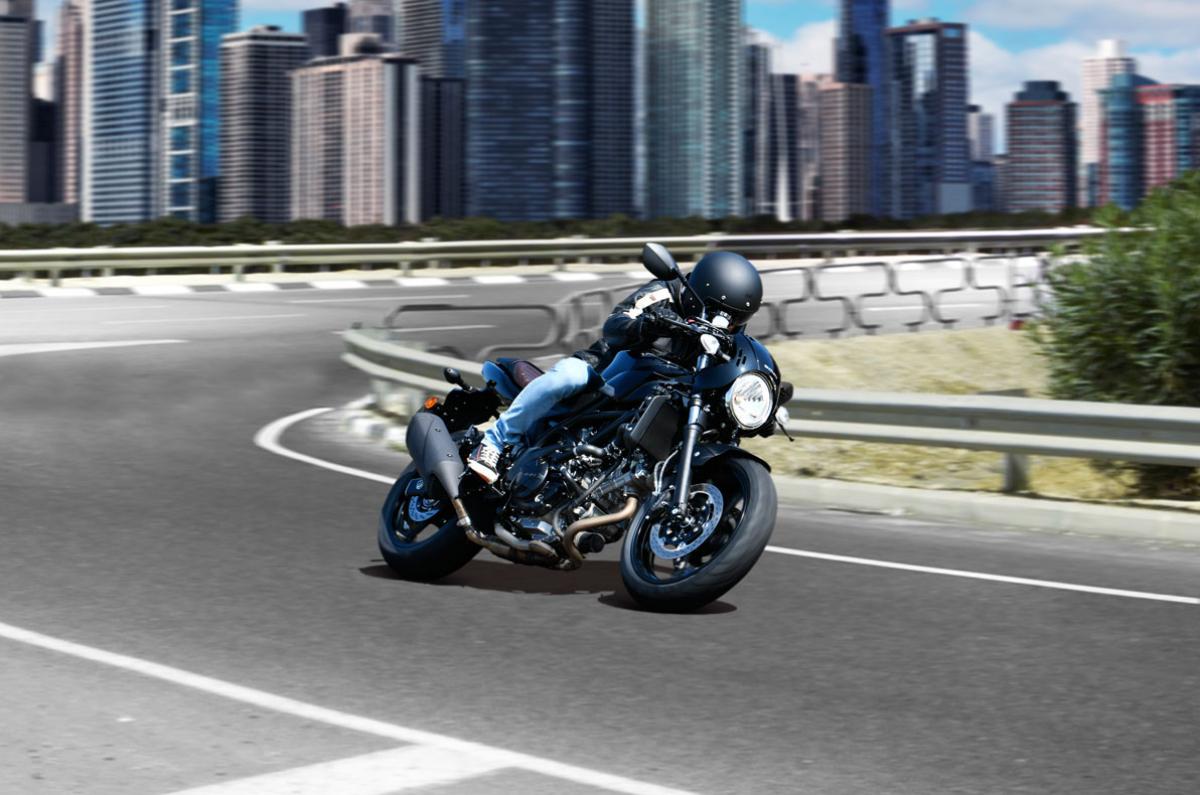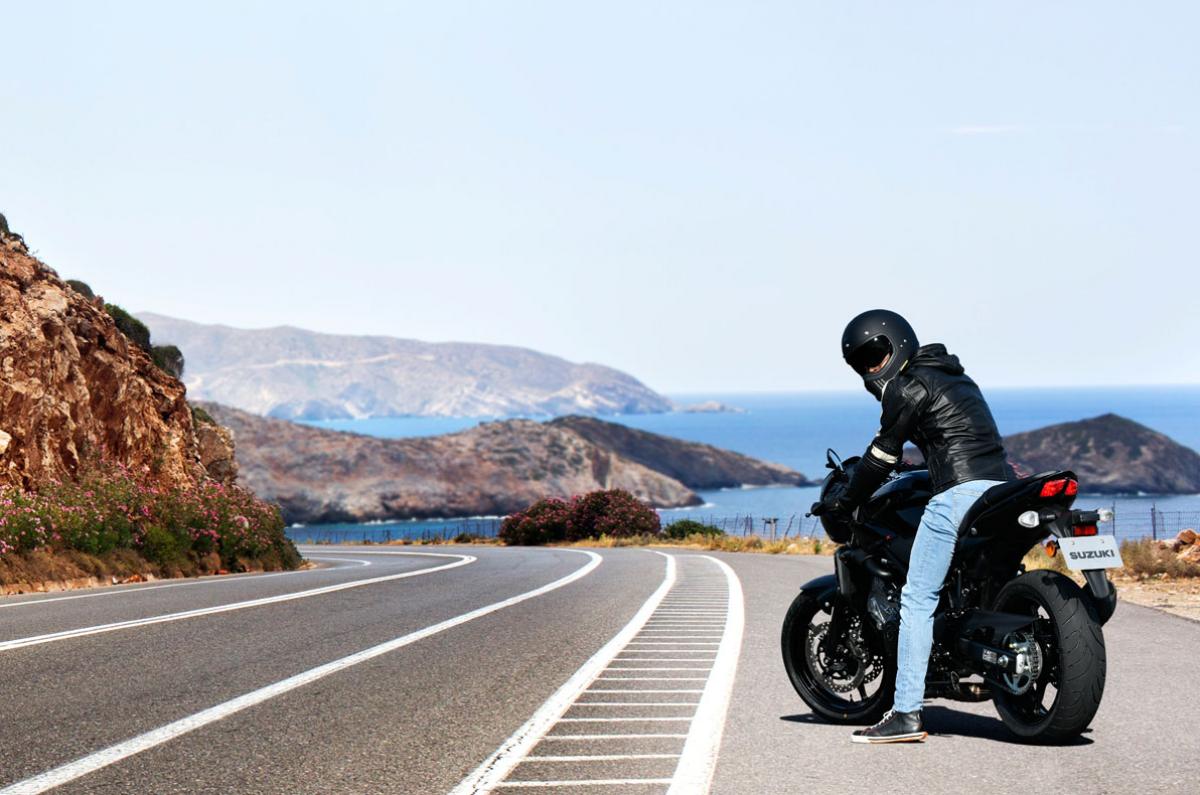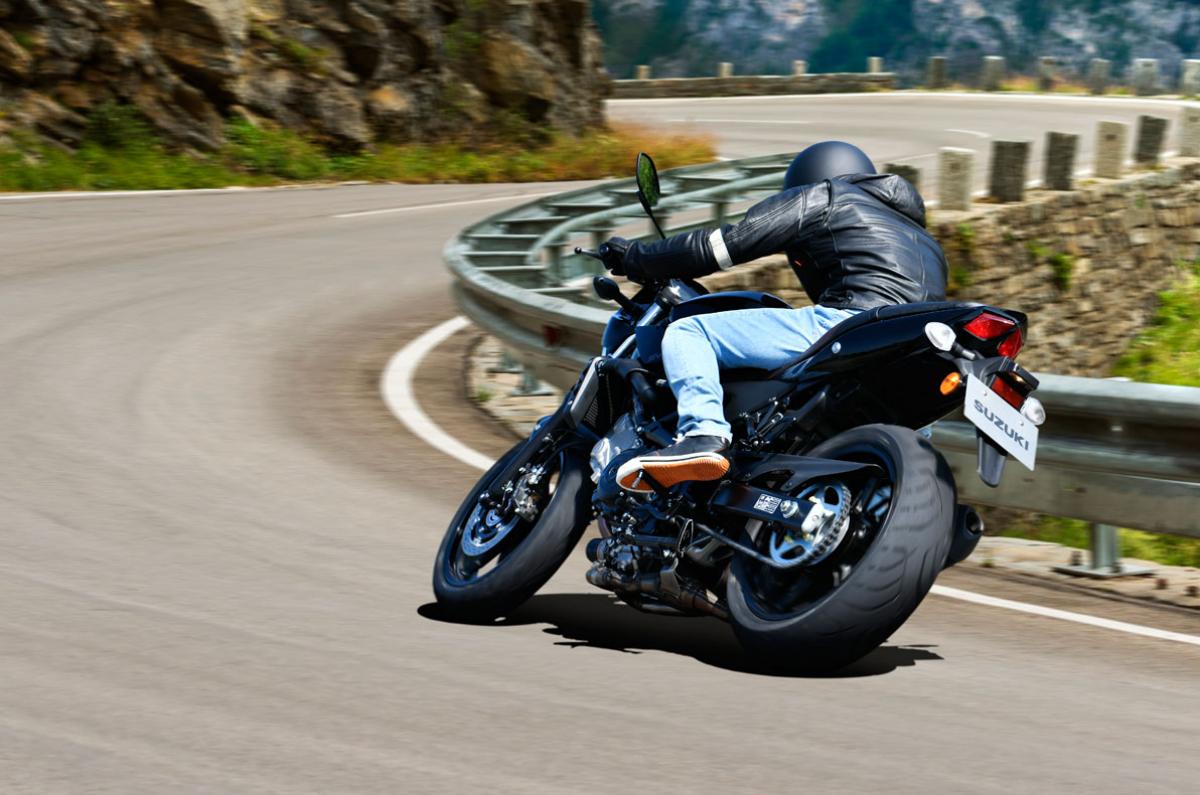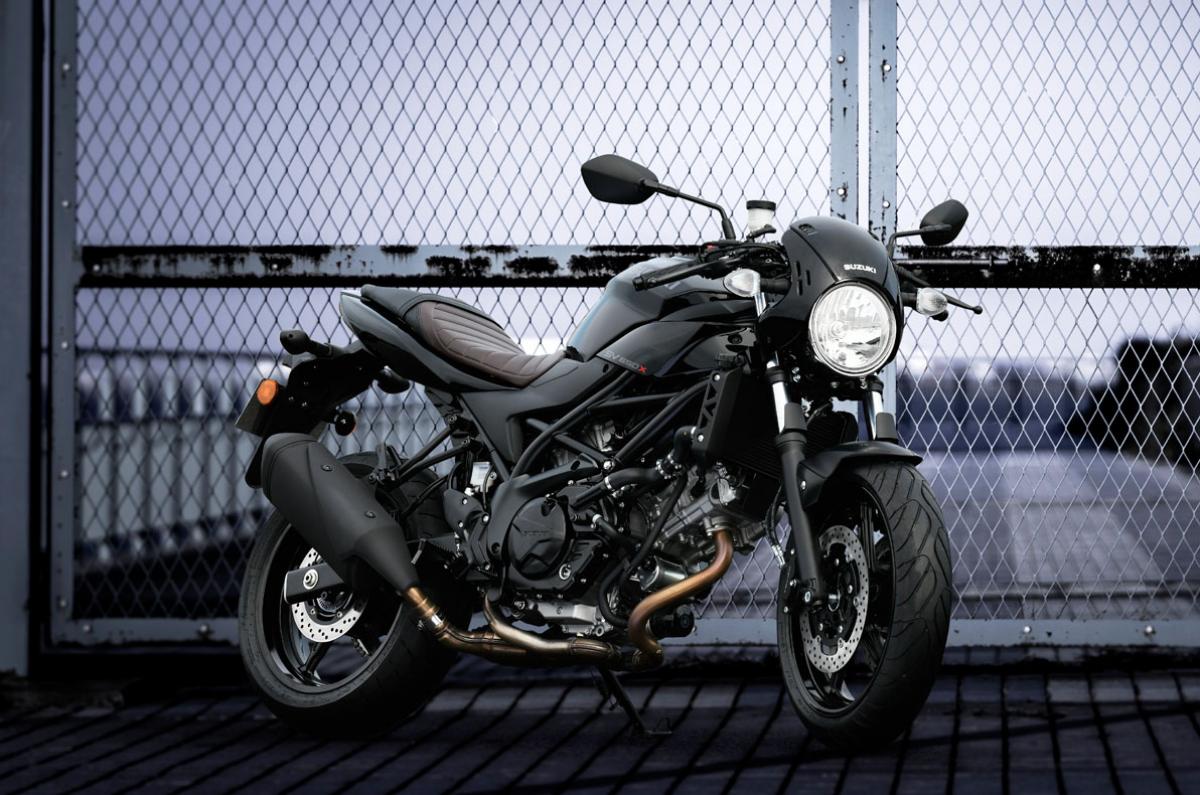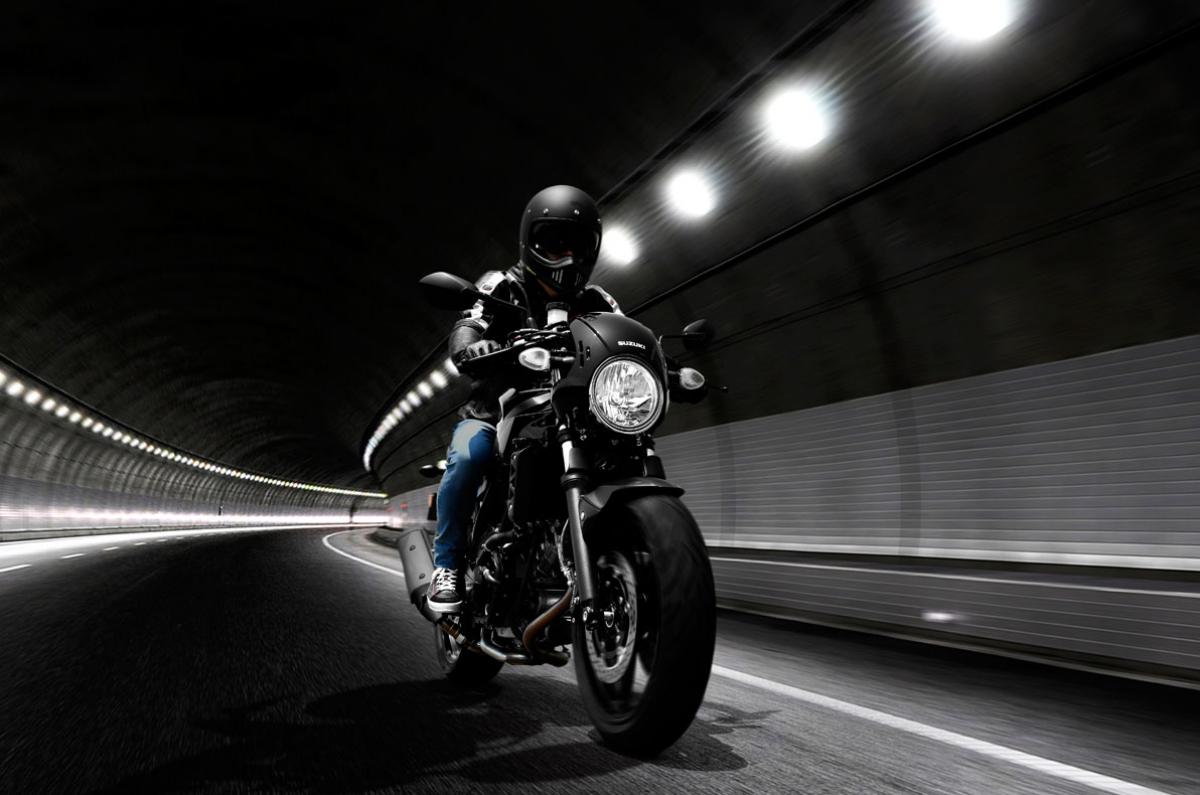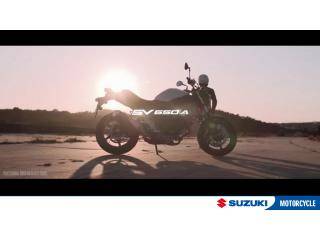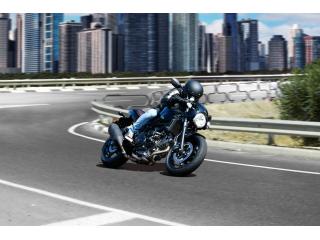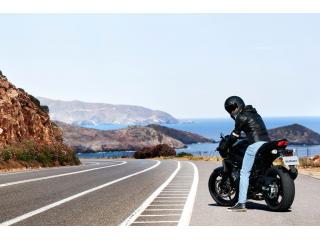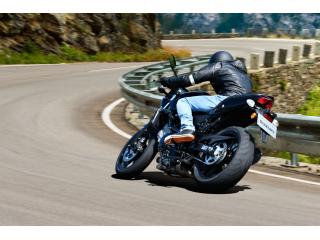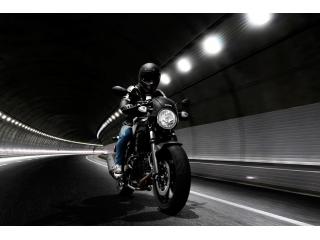 Technical specifications
Engine Displacement
645cm3
Fuel Consumption*
4L / 100km

Engine Type

4-stroke, 2-cylinder, liquid-cooled, DOHC

CO2*

93 g / km

Bore x Stroke

81 mm x 62.6 mm

Fuel Tank Capacity

14.5 L

Transmission

6-speed constant mesh

Engine Power

56 kW (75 PS) / 8500 rpm

Engine Torque

64 Nm / 8100 rpm

Overall Length

2 140 mm

Overall Width

730 mm

Overall Height

1 090 mm

Wheelbase

1 445 mm

Ground Clearance

135 mm

Front Suspension

Telescopic, coil spring, oil damped, spring preload adjustable

Rear Suspension

Link type, coil spring, oil damped, spring preload adjustable

Front Brake

Disc, twin

Rear Brake

Disc

Front Tyre

120/70ZR17M/C (58W), tubeless

Rear Tyre

160/60ZR17M/C (69W), tubeless

*

Calculated based on the Worldwide Motorcycle Test Cycle (WMTC) mode exhaust emissions measuring conditions. Actual fuel economy and riding range may differ owing to differences in conditions such as the weather, road, rider behavior and maintenance.
Model catalog
Accessory catalog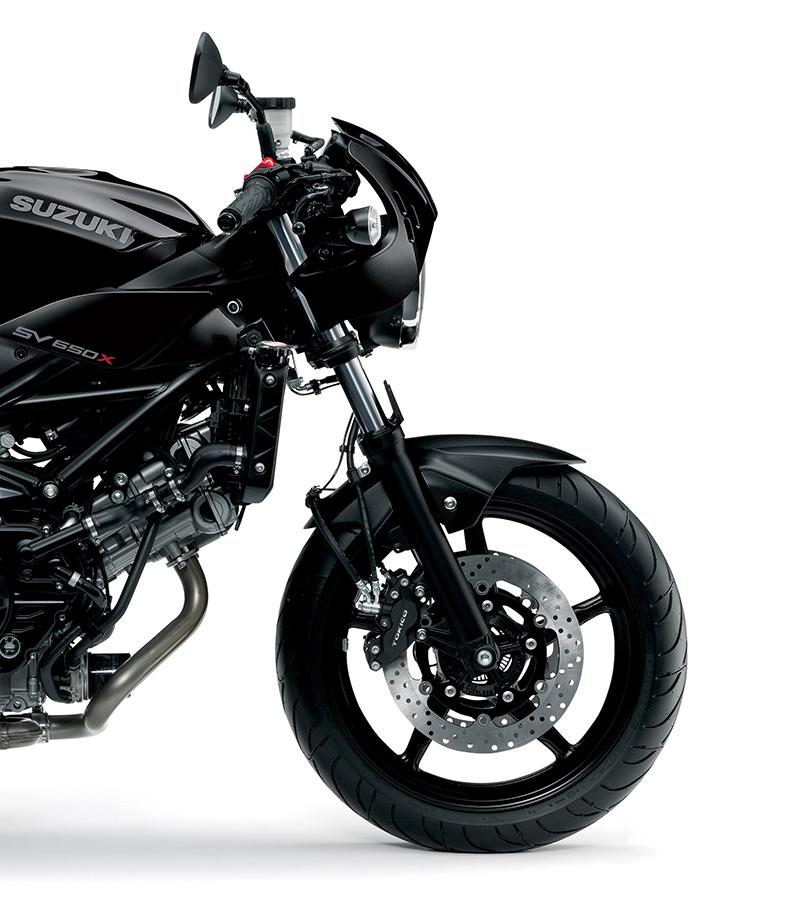 Additional models