GSX-R1000R ABS
The King is Back – Own The Racetrack
5 799 000 HUF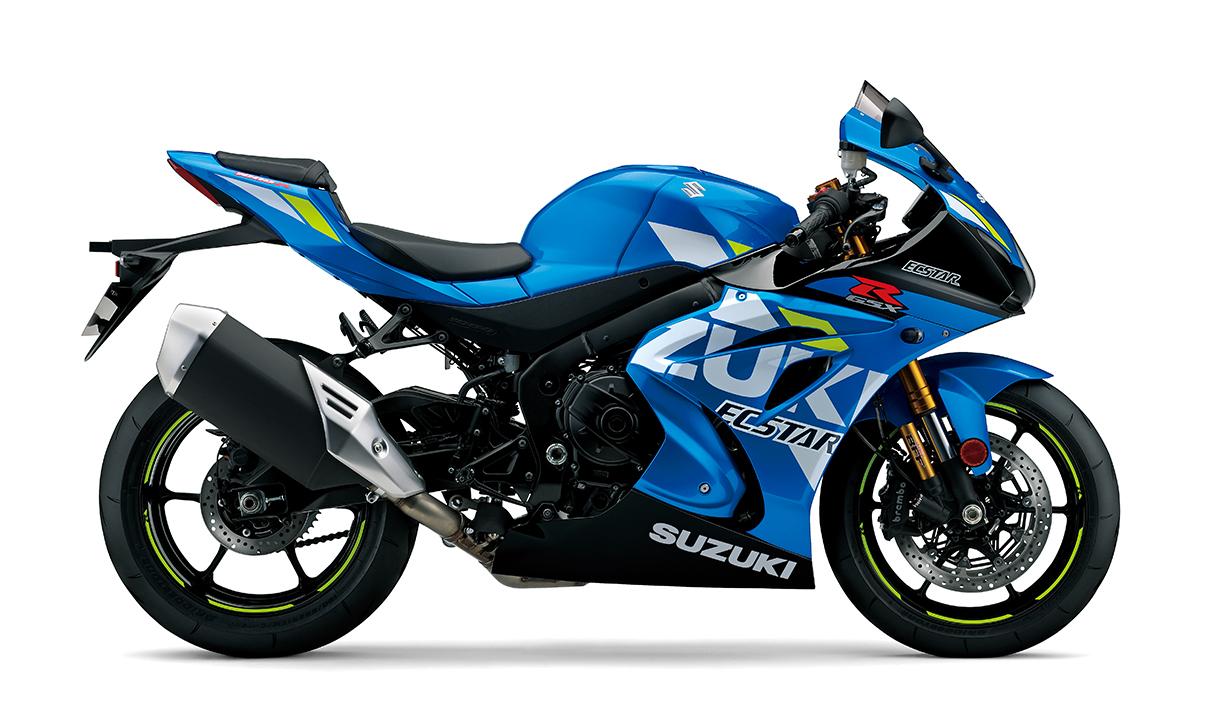 The King is Back – Own The Racetrack
It has been three decades and more than a million sold since the GSX-R line was born. More than 15 years since the GSX-R1000 transformed the open sportbike class. It is the most powerful, hardest-accelerating, cleanest-running GSX-R ever built. Available in two versions, the standard GSX-R1000 and the limited-production GSX-R1000R.
The top-spec GSX-R1000R is equipped with the latest SHOWA BFFⓇ (Balance Free Front) forks and SHOWA BFRCⓇ lite (Balance Free Rear Cushion lite) rear shock, bi-directional quickshifter, racing launch control, LED position lights, a unique black LCD instrument panel display letting you know you're sitting aboard something truly special. 

Driving licence category
A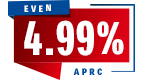 *The information is not exhaustive. Please contact our dealers for further details. Financing is provided by Merkantil Bank Zrt. in the form of a HUF-based, closed-end lease construction. The construction is subject to a compulsory, fully comprehensive Casco insurance, with Merkantil Bank Zrt. as the beneficiary.
5 799 000 HUF
Locate the nearest dealer to you
Dealers
Main features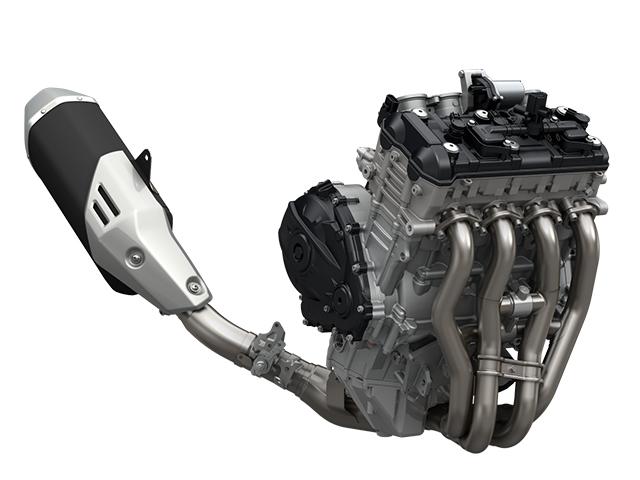 The most powerful GSX-R ever
The all-new, 999.8cm3 in-line four cylinder, DOHC, liquid-cooled engine, is the most powerful, hardest accelerating, cleanest running GSX-R engine ever built. Producing 148.6kW (202ps) @13,200rpm with 117.6Nm of torque @10,800rpm, the new engine surpases the competition. The design target was simple "Increase top end power without sacraficing low and mid range output" to acheive this Suzuki engineers had to employ advanced MotoGP derived technologies known as the Broad Power System.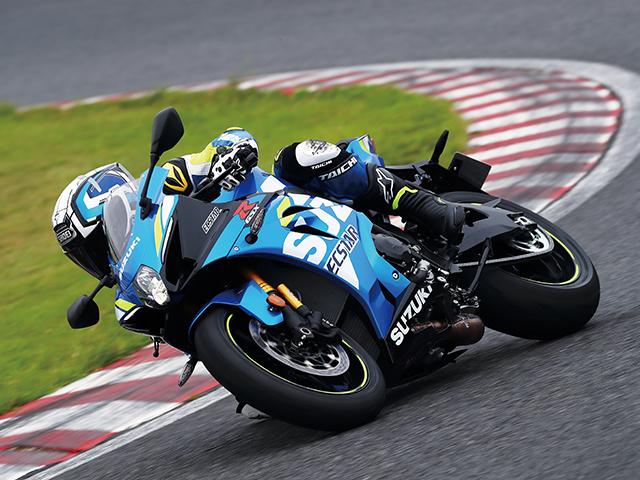 Bi-Directional Quick Shift System
The GSX-R1000R model also has a new racing-type bi-directional quick shift system, allowing the rider to upshift and downshift without using the clutch or the throttle. The quick shift system allows the rider to upshift smoothly and quickly at full throttle, without closing the throttle. The system automatically interrupts power delivery just long enough (between 50 and 75 milliseconds, depending upon the sensitivity adjustment) to unload the transmission gear dogs and allow a clean upshift, producing smoother, almost uninterrupted acceleration. For quicker and smoother downshifts without manually blipping the throttle twist grip or using the clutch, the system automatically opens the throttle valves just enough to increase rpm and match engine speed to the next-lower gear ratio.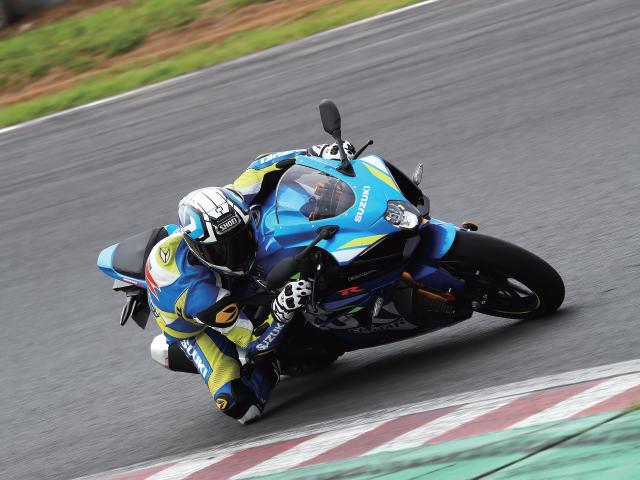 Launch Control
The GSX-R1000R model's launch control system makes it easier for a racer to get a good start in competition by automatically limiting engine rpm and optimising torque delivery while the rider holds the throttle twist grip wide open and concentrates on feeding in the clutch lever.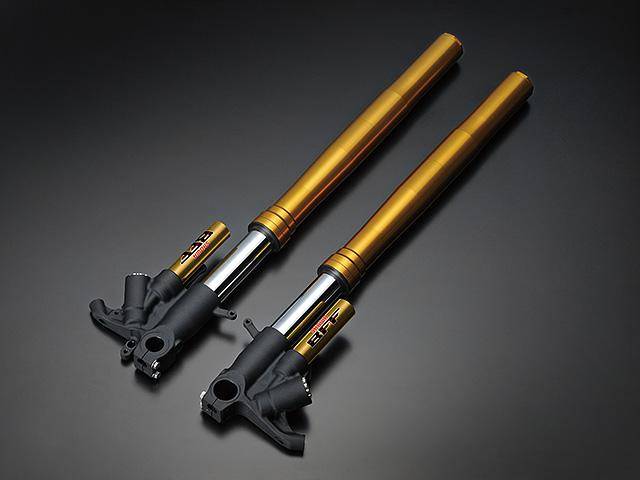 SHOWA BFFⓇ (Balance Free Front) forks
The GSX-R1000R model features the latest Showa BFF (Balance Free Front) forks, which were developed for racing use and have now been adapted to mass production. BFF forks provide more consistent damping and enhanced performance, increasing cornering traction by delivering smoother, more controlled travel and doing a better job of dealing with pavement imperfections. The BFF system balances (or equalises) oil pressure above and below the solid internal piston as it moves up and down, pushing oil out of the fork leg and through external damping circuits that run to the other side of the piston, where it is drawn back into the fork leg. The external compression and rebound damping circuits that the oil runs through are more precise than the valve stacks fitted above and below the piston in other types of forks, and damping control is "set free" (or isolated) from the influence of unequal pressure. It's a difference that can be felt, with riders reporting improved comfort on the road and better feel and cornering grip on the racetrack. BFF rebound damping, compression damping and spring preload can be easily adjusted externally.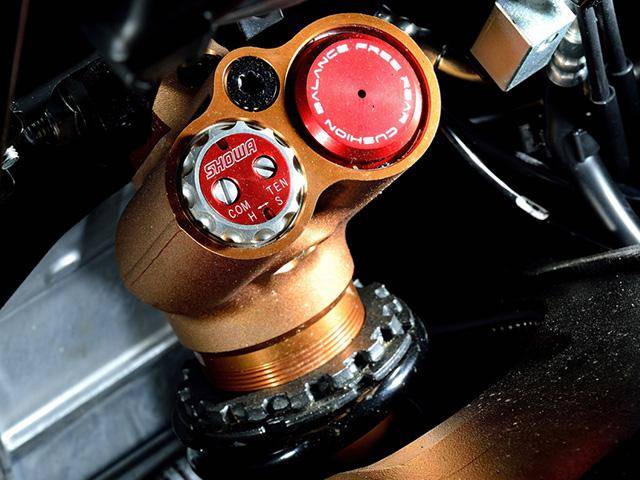 SHOWA BFRCⓇ lite (Balance Free Rear Cushion lite) Rear Shock
BFRC® lite rear shock absorber balances (equalises) oil pressure above and below the solid internal piston as it moves. As the shock compresses, oil is pushed through the external damping circuit built into the upper shock body, through the compression valve stack and back into the shock body, on the other side of the piston.  As the shock extends, oil is pushed through the external rebound damping circuit, through the rebound valve stack and back into the shock body, on the other side of the piston. Compared to conventional shocks that generate damping by pushing oil through the internal piston and valve shim stacks fitted above and below the piston, damping control is isolated from the influence of unequal pressure. It's a difference that the rider can feel on the street and on the racetrack, with riders reporting better feel and drive grip that allowed them to initiate their drive sooner and accelerate out of racetrack corners harder. The improvement in damping control is so significant that it is no longer necessary to provide separate high-speed and low-speed compression damping adjustments, and the rear shock is lighter as a result.  On the street, the BFRC lite shock absorber is more responsive and improves traction and rider comfort.  Damping adjustment controls are conveniently located and clearly labeled on the upper shock body, and the BFRC lite shock absorber works with a progressive linkage.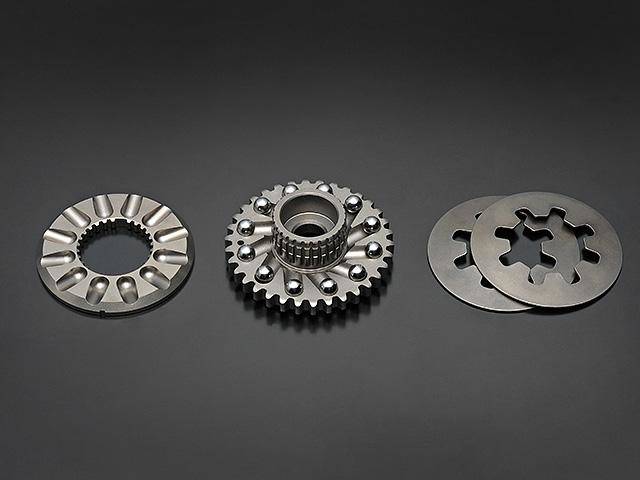 Suzuki Racing VVT
Exploiting the higher engine speed and increasing the high-rpm power without affecting lower and mid-rpm power presented a challenge. The valve timing typically needed for higher peak power also reduces mid-range and lower-rpm power, and vice versa. The answer came from the proprietary, proven Suzuki Racing VVT (SR-VVT) System developed for Moto GP racing. Unlike complicated variable valve timing systems used by other manufactures, the SR-VVT is simpler, more compact, lighter and more positive. The centrifugally operated system is built into the intake cam sprocket and an adjacent guide plate, using 12 steel balls and slanted grooves to rotate the sprocket and retard the intake valve timing at a pre-set rpm, adding significantly to high-rpm power.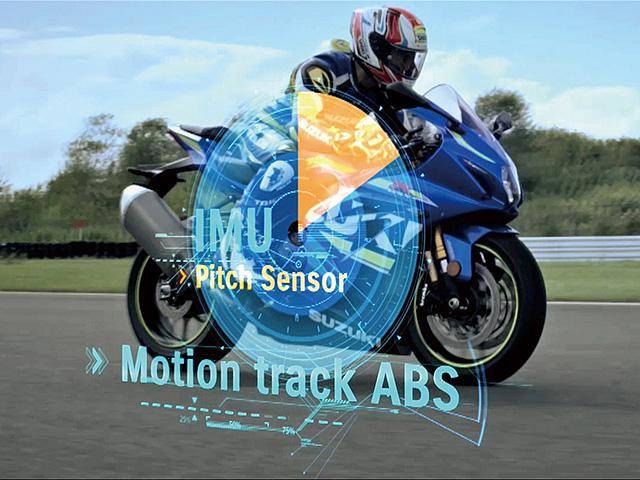 Motion Track TCS (Traction Control System)
Suzuki's advanced Motion Track TCS (Traction Control System) allows the rider to select 10 different levels of traction control intervention, depending upon road or racetrack conditions as well as personal preference and experience level. The power mode and level of TCS intervention can be changed while riding, as long as the throttle is closed. The Motion Track TCS continuously monitors front and rear wheel speed, throttle position, crankshaft position, gear position and motorcycle motion, and quickly reduces engine power output when a loss of traction is detected or predicted. Power output is controlled by managing ignition timing and throttle valve position.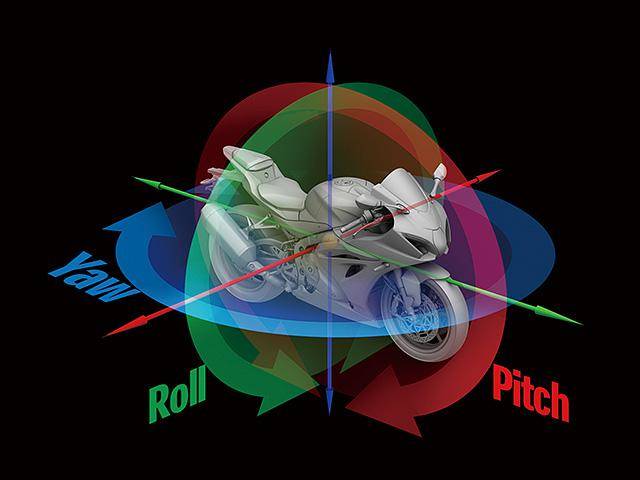 Motion Track Brake System
Both models are equipped with the new Motion Track Brake System, which works with the IMU (Inertial Measurement Unit). The IMU constantly monitors vehicle movement in 6-directions along 3-axes, Pitch, Roll and Yaw. Using IMU input, the Motion Track Brake System reduces rear-wheel lift during very hard braking on the racetrack, and is especially effective on downhill sections of track. On the GSX-R1000R model, the system also optimises brake pressure when the motorcycle is leaning.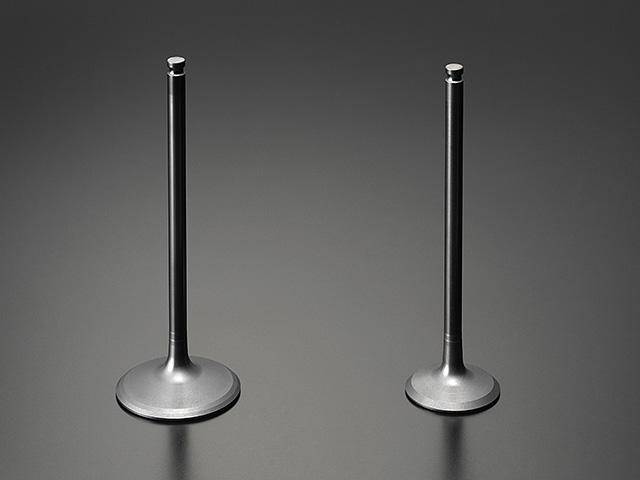 Suzuki Racing Finger follower valve train
The new GSX-R1000 uses a valve train developed in MotoGP competition, using thinner-wall, hollow camshafts operating lighter, F1-style pivoting finger followers. Each finger follower is 6 grams lighter than a conventional bucket tappet (10 grams vs. 16 grams), and because each follower pivots on a fixed shaft, its moving mass is just 3 grams. The lighter moving mass allows maximum engine rpm and valve lift to be increased while improving valve response and maintaining accurate valve control. Each finger follower in the GSX-R1000 is designed based on the actual followers used in the GSX-RR MotoGP racebike, including a DLC coating to increase durability.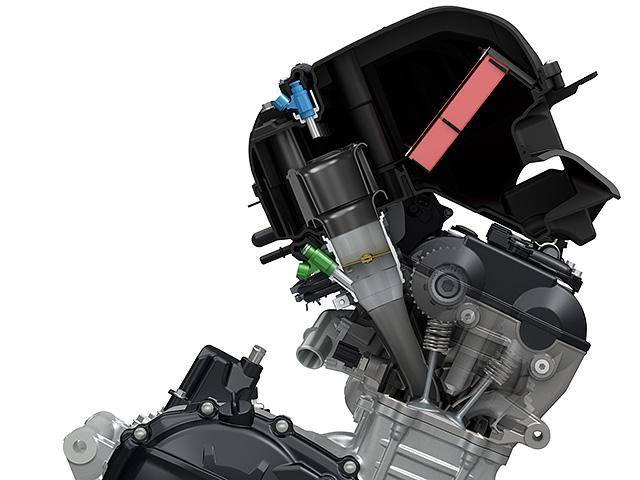 Suzuki Top Feed Injectors (S-TFI)
New, ride-by-wire downdraft throttle bodies are 19mm shorter, simpler, lighter and more compact than the previous model's throttle bodies, with a larger bore (46mm versus 44mm). The new throttle bodies each have a single butterfly valve controlled by an advanced electronic engine management system, and each cylinder is fed by two ultra-fine-atomization 10-hole injectors. One injector is mounted at a steep angle in the throttle body itself and operates any time the engine is running. A second showerhead Injector―also known as a Top Feed Injector (TFI)―is mounted in the top of the airbox, directly over each throttle body velocity stack, and operates at higher rpm. The TFI showerhead injector delivers fuel in an optimised spray pattern designed to enhance combustion efficiency, throttle response and top-end power.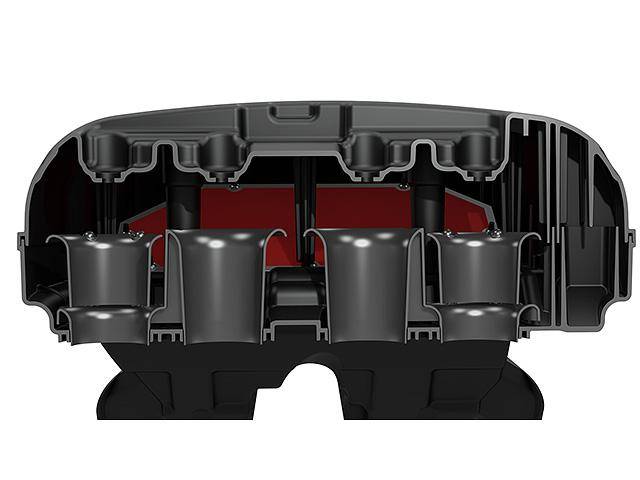 Suzuki Dual-Stage Intake (S-DSI)
The S-DSI system has dual-stage intake funnels for cylinders #1 and #4, and single-stage, conventional intake funnels for cylinders #2 and #3. Normally, shorter conventional intake funnels are better for high-rpm power while longer conventional intake funnels are better for low and mid-range power. Thanks to the physics of air flow, S-DSI intake funnels provide the best of both, acting like a longer intake funnel at low and mid rpm, and acting like a shorter intake funnel at higher rpm.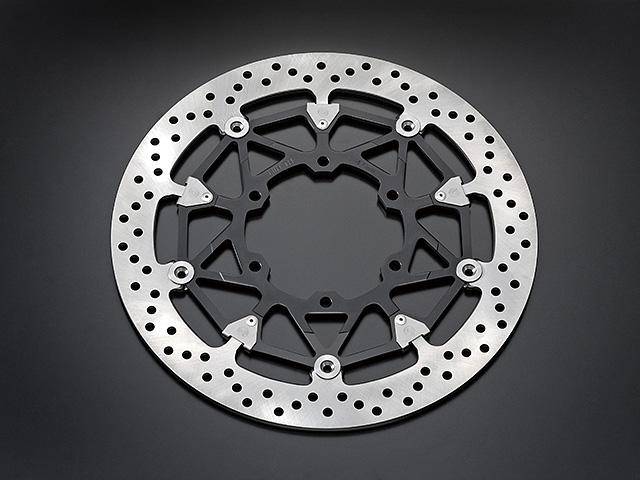 New Brembo Discs And Radial-Mount Calipers
New Brembo stainless steel brake discs are 10 mm larger in diameter, measuring 320mm. Each disc features a new hybrid mounting system using a 50/50 combination of 5 conventional spring loaded floating pin mounts and 5 Brembo T-drive floating mounts. The Brembo T-drive floating mounts are lighter yet have more contact area between the disc and inner carrier, requiring fewer mounts (10) than conventional mounts alone (12), minimising the weight gain from the larger discs. But T-drive mounts can also produce an audible rattle in certain conditions. Conventional spring-loaded pin mounts are slightly heavier and produce a smaller contact area, but are quieter. Using a combination of T-drive and pin mounts reduces rattle as well as requiring fewer mounting points. The GSX-R1000's Brembo radial-mount, monoblock front brake calipers each have four 32mm pistons and work with a radial-pump, 19mm master cylinder. The rear brake system uses a single-piston caliper and a 220mm disc. The end of the front brake lever is slotted to reduce the chance that wind pressure will induce brake drag at high speed.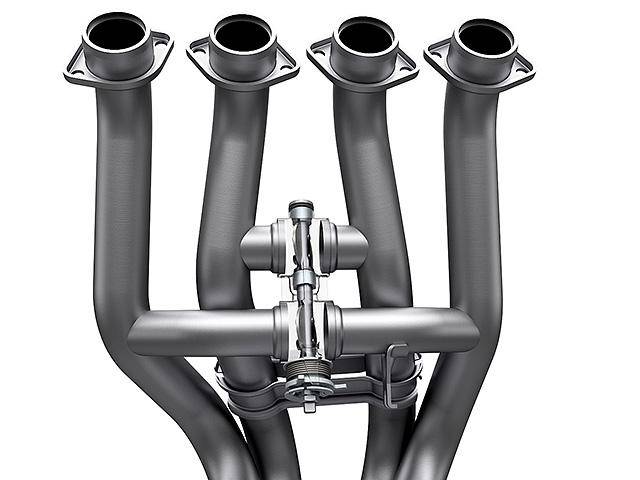 Suzuki Exhaust Tuning-Alpha (SET-A)
GSX-R1000 models have long used a servo-operated Suzuki Exhaust Tuning (SET) butterfly valve built into the mid- pipe to help maximize torque throughout the rpm range by adjusting back pressure based on engine rpm, throttle position and gear position. But the new GSX-R1000's exhaust system improves on that idea with the addition of new Suzuki Exhaust Tuning-Alpha (SET-A) butterfly valves.  A header balance tube connects the head pipes for cylinders #1 and #4, and another header balance tube connects the head pipes for cylinders #2 and #3, a design feature that normally increases high-rpm power by reducing back pressure and adding volume, at the expense of mid-range and lower-rpm power.  Suzuki engineers added two servo-operated SET-A butterfly valves, one in each header balance tube. The SET-A valve in each header balance tube remains closed to enhance lower-rpm and mid-range power, then opens to increase volume, reduce back pressure and work with pressure waves to add significant power at higher rpm.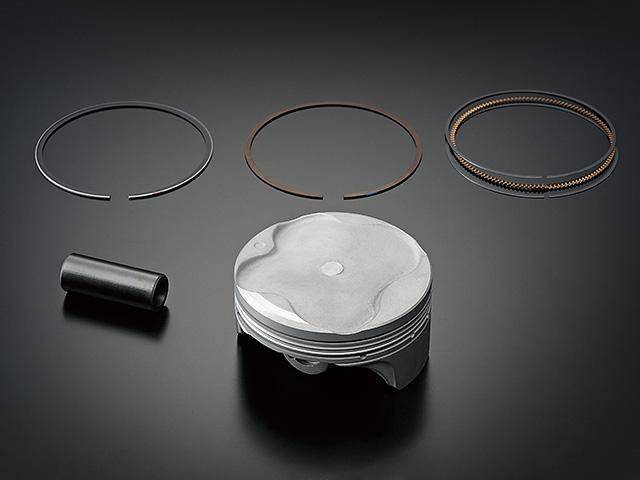 Forged aluminium pistons
Each forged aluminium piston has short skirts and cutaway sides to reduce weight and friction, a DLC-coated wrist pin to reduce friction and a carefully shaped piston dome to increase compression while also enhancing combustion efficiency. The L-shaped upper compression ring is pushed out against the cylinder wall by combustion pressure, reducing blow-by and improving sealing. The oil control ring features a chrome-nitride coating, which is harder and smoother than conventional chrome plating, reducing friction, increasing durability, and also enhancing sealing.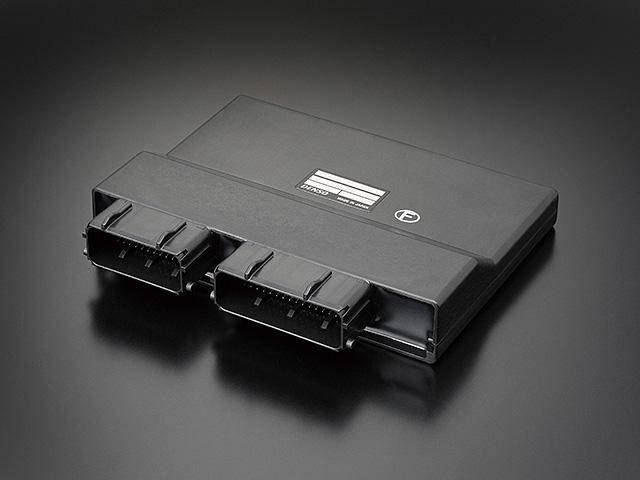 Advanced Electronics
The IMU-based advanced electronic management system is operated by a 32-bit dual processor ECM (Electronic Control Module). As the rider turns the handlebar twist grip, the ECM reads throttle position, crankshaft position and rpm, gear position, front and rear wheel speed, IMU position and exhaust oxygen content. The system then adjusts ignition timing, opens or closes the throttle valves, and adjusts the amount of injected fuel to work with the traction control system, maximise intake charge velocity, and produce more efficient and complete combustion. The result is effective traction control and more linear throttle response, along with more power, more torque and reduced emissions across the rpm range.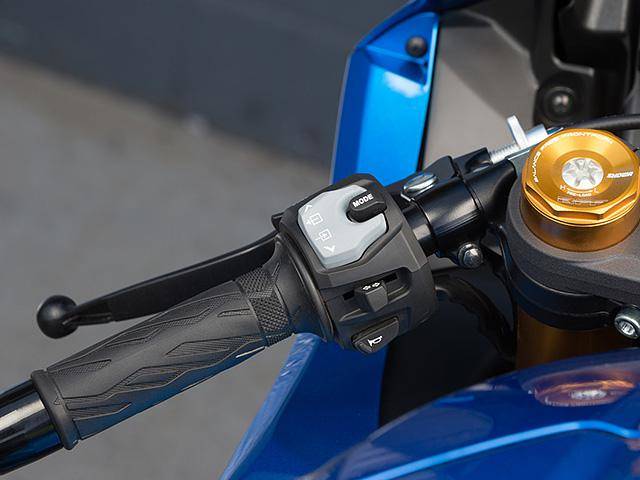 All-New Suzuki Drive Mode Selector (S-DMS)
Using the S-DMS switch on the left handlebar, the rider can select three different mapping and engine power delivery settings designed to match power delivery to various ambient conditions, such as riding on different racetracks, or on tight and twisty roads, or in urban settings, or in traffic, or on straight and open highways. The rider can change the power mode while riding, as long as the throttle is closed. Note: Full engine power is available in all three modes.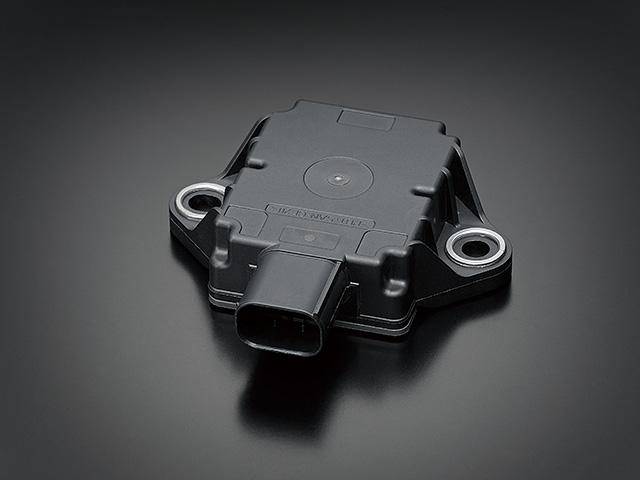 Inertial Measurement Unit (IMU)
The new GSX-R1000's advanced electronic management system incorporates feedback from a Continental Inertial Measurement Unit (IMU) which tracks the motion and position of the motorcycle in 6-directions, along 3-axis, Pitch, Roll and Yaw. Monitoring these motorcycle motions in real time allows traction, braking and cornering control to be more precise and effective. The GSX-R1000's IMU-based systems are a product of advanced engineering, developed in MotoGP competition.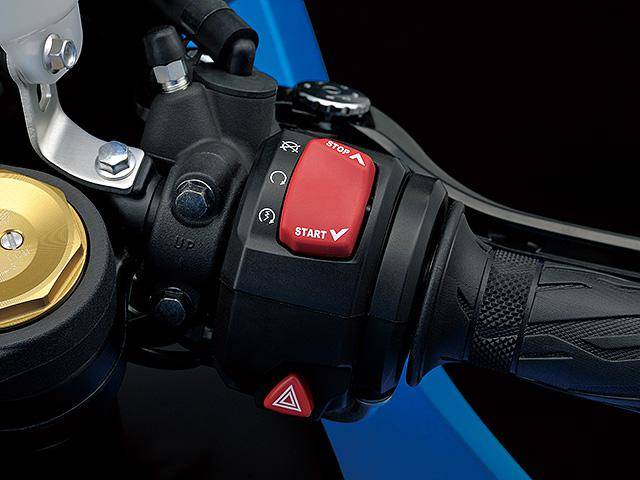 Suzuki Easy Start System
The dual processor ECM also runs a new one-touch Suzuki Easy Start system, and an idle-speed system, which improves cold starting, reduces cold-start emissions and stabilises engine idle under various conditions, based on coolant temperature. The convenient Suzuki Easy Start System automatically starts the engine with one touch of the starter button mounted in the switch module on the right handlebar; there's no need to hold the button down until the engine fires. Thanks to the new system, the rider doesn't have to pull the clutch lever in to start the engine, as long as the transmission is in neutral.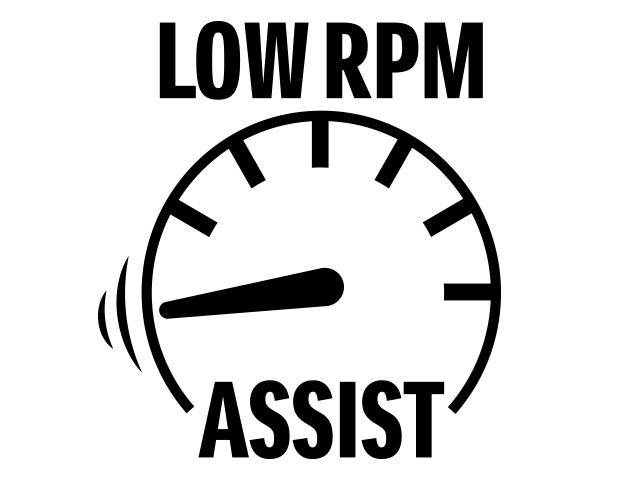 Low RPM Assist
Suzuki's new Low RPM Assist system monitors and automatically adjusts engine rpm when taking off from a stop or riding slowly. The system makes it easier to pull away from a standstill or maneuver in heavy traffic or through a crowded car park.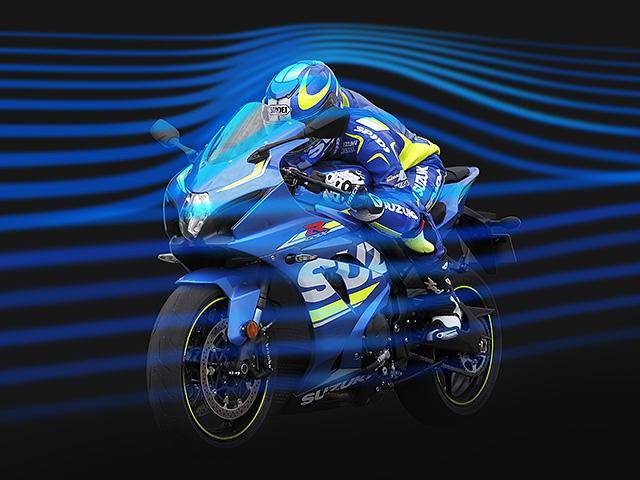 Improved Aerodynamics
The new GSX-R1000 has MotoGP-inspired, sleeker and more aerodynamic bodywork designed to improve handling and top speed on the racetrack. The front fairing is 13mm narrower, and reshaped fairing ears are closer to the handlebars and produce better air flow around the rider's hands and arms. The lower leading edge of the fairing nose directs air into new Suzuki Ram-Air Direct (SRAD) intake ducts, which have a smoother internal shape that increases the flow of pressurised air into the air cleaner box. The fairing radiator cowl projects forward on each side, directing more cooling air into the radiator itself. The shape of the front fender increases down force, smoothes the flow of cooling air into the radiator and increases the air reaching the front brake calipers. The bodywork has a more connected flow line from the fairing nose to the tail section. It has a smaller frontal projected area and smoother wind-tunnel-developed lines, reducing the coefficient of drag and also reducing lift at racetrack speeds. It's lighter, producing less moment of inertia and less leverage on the center of gravity. And it directs the air flow to improve engine and brake cooling while also increasing down force, rider wind protection, and engine efficiency. Which means that besides looking great, the new bodywork also helps the GSX-R1000 run, turn, and stop on the racetrack.
Gallery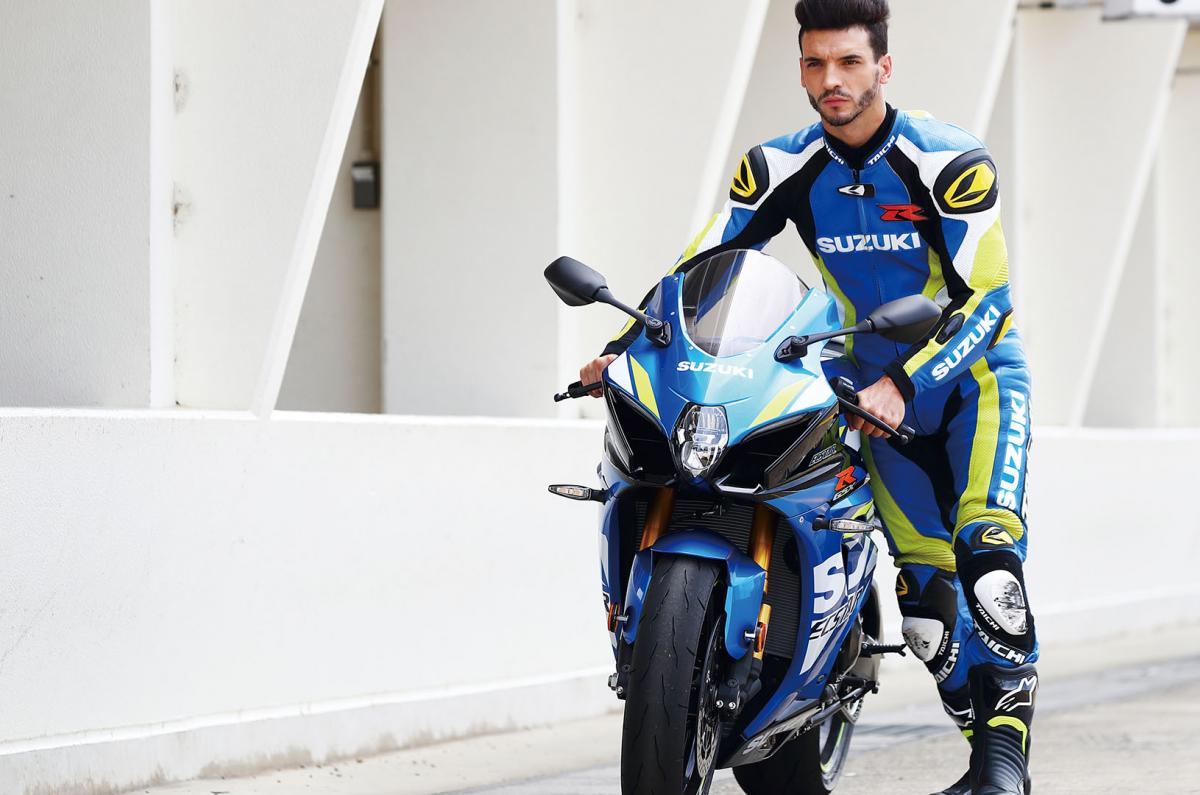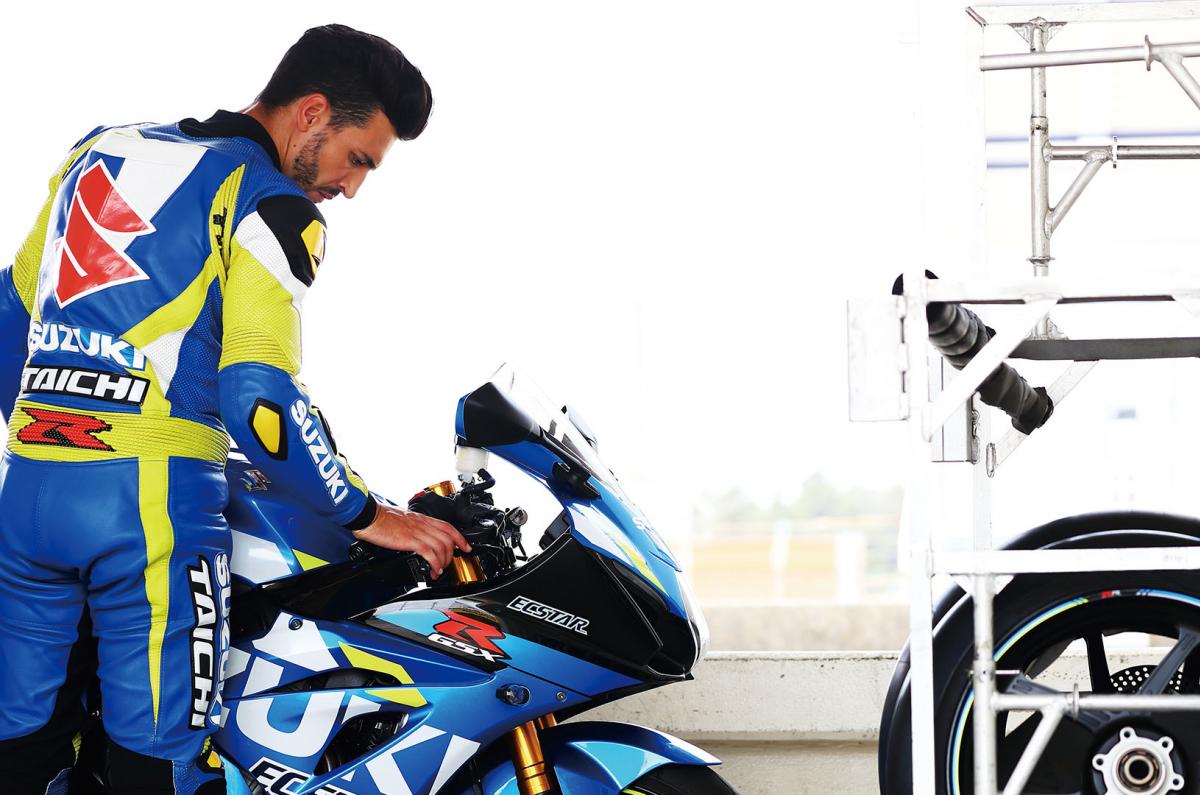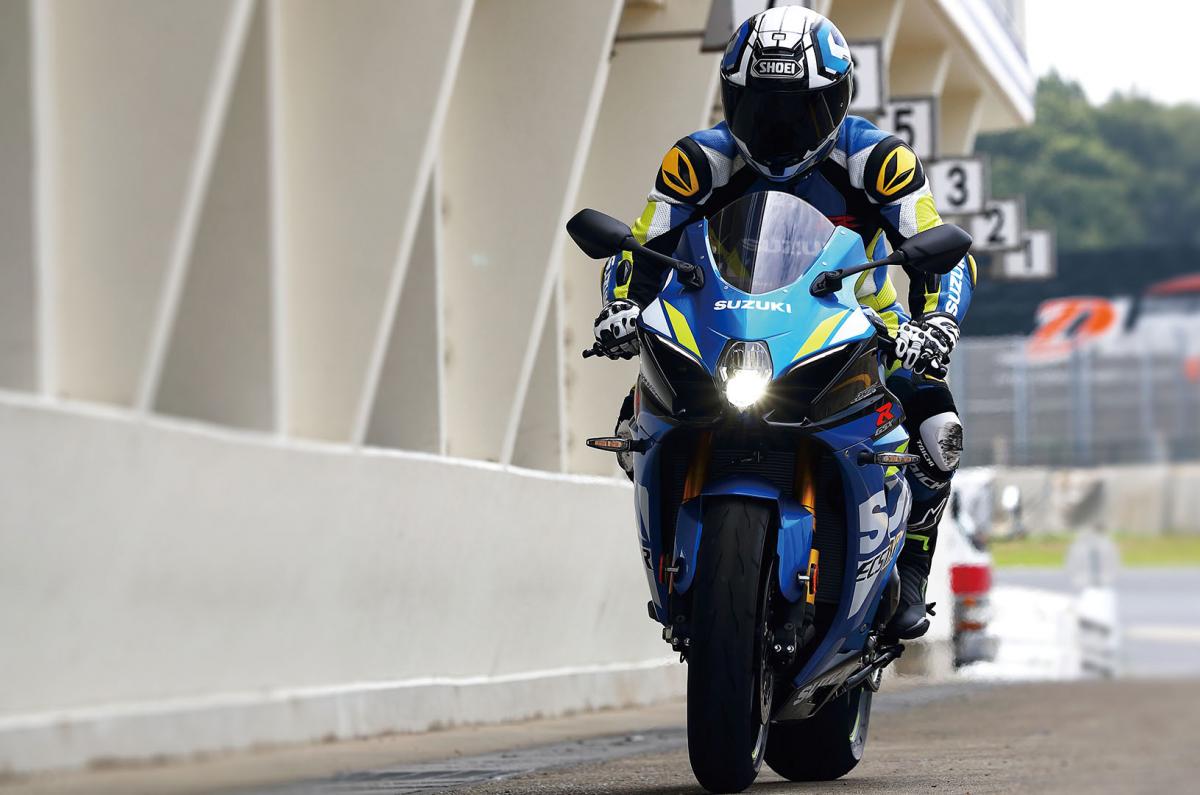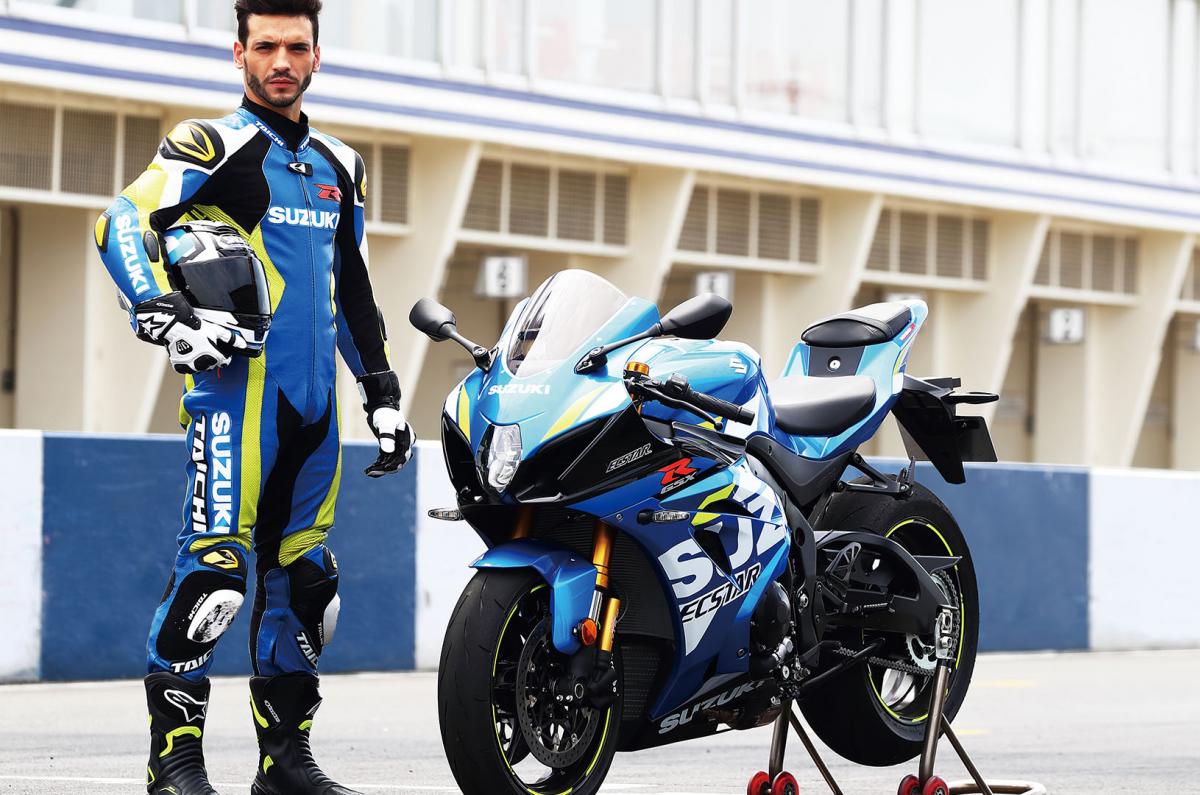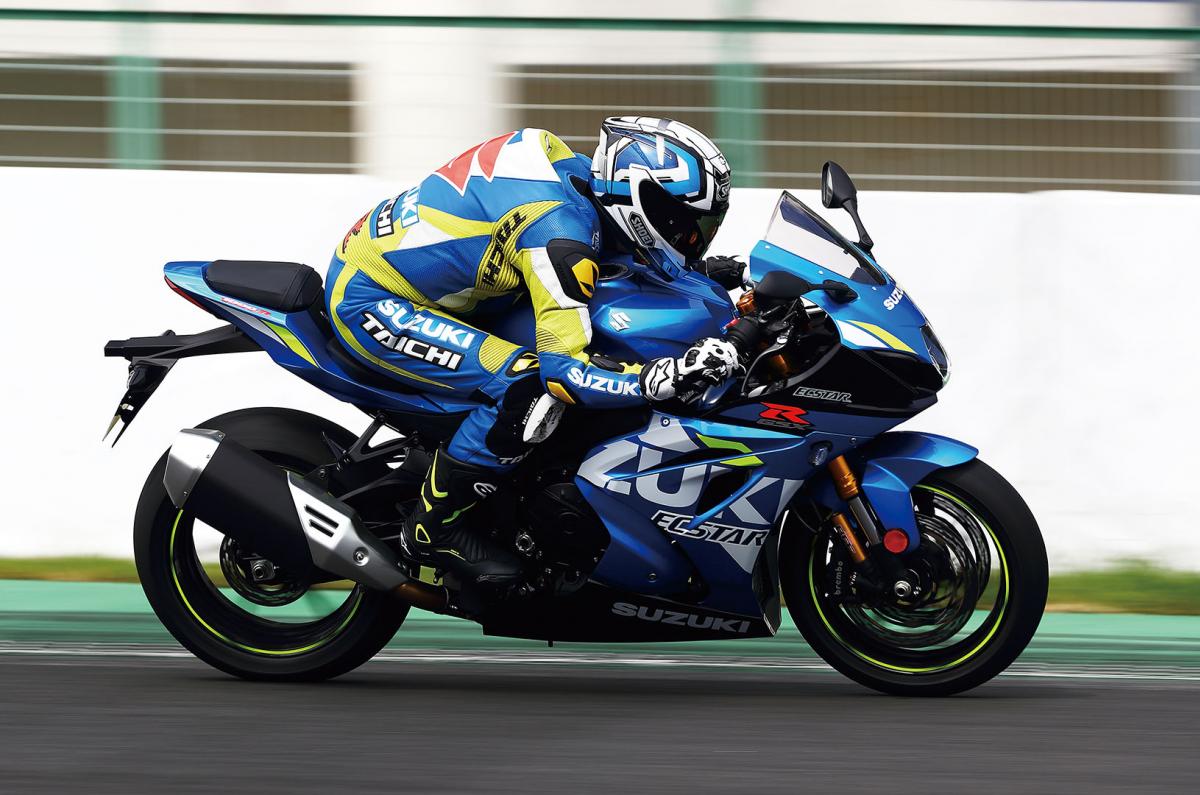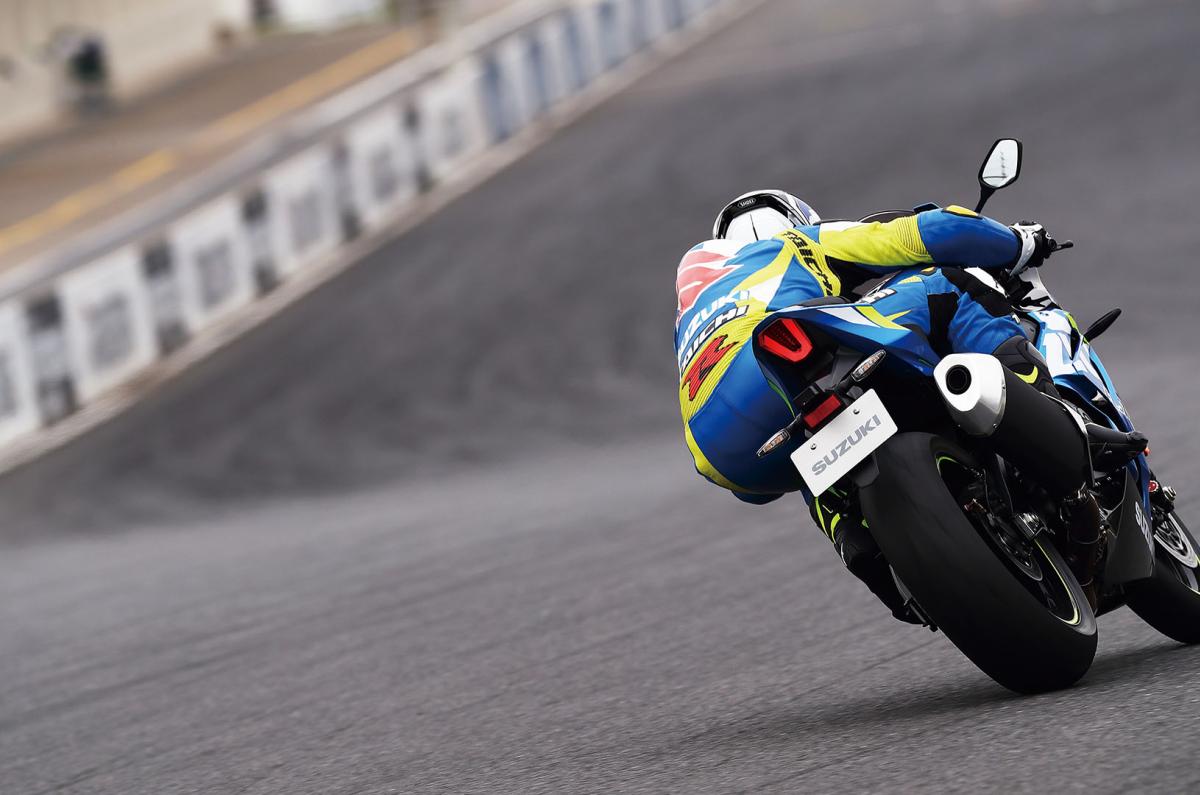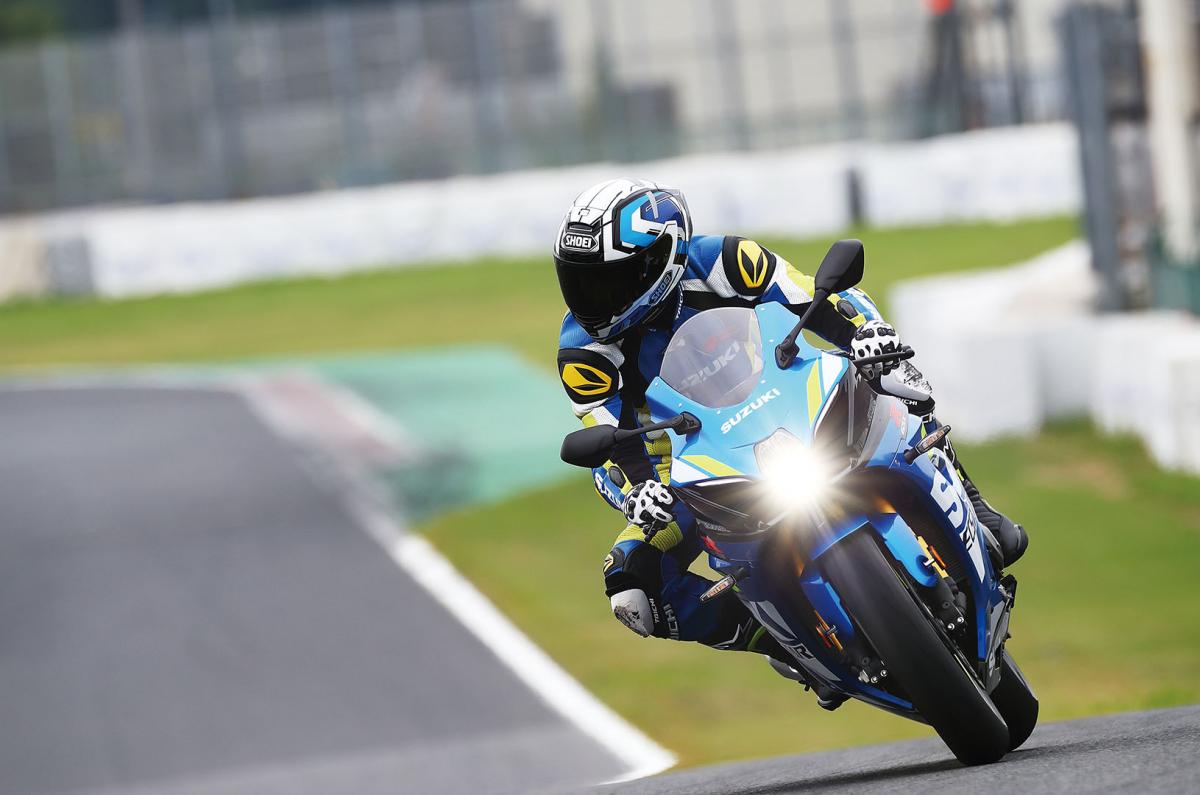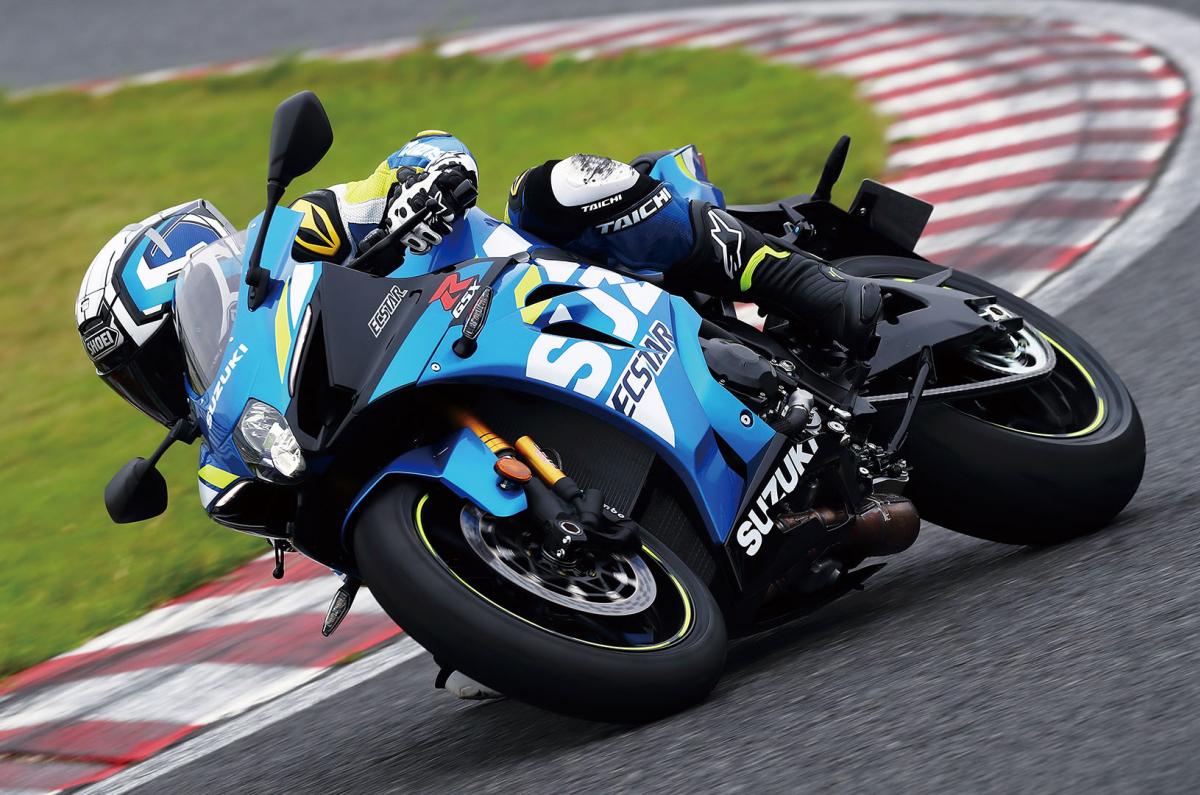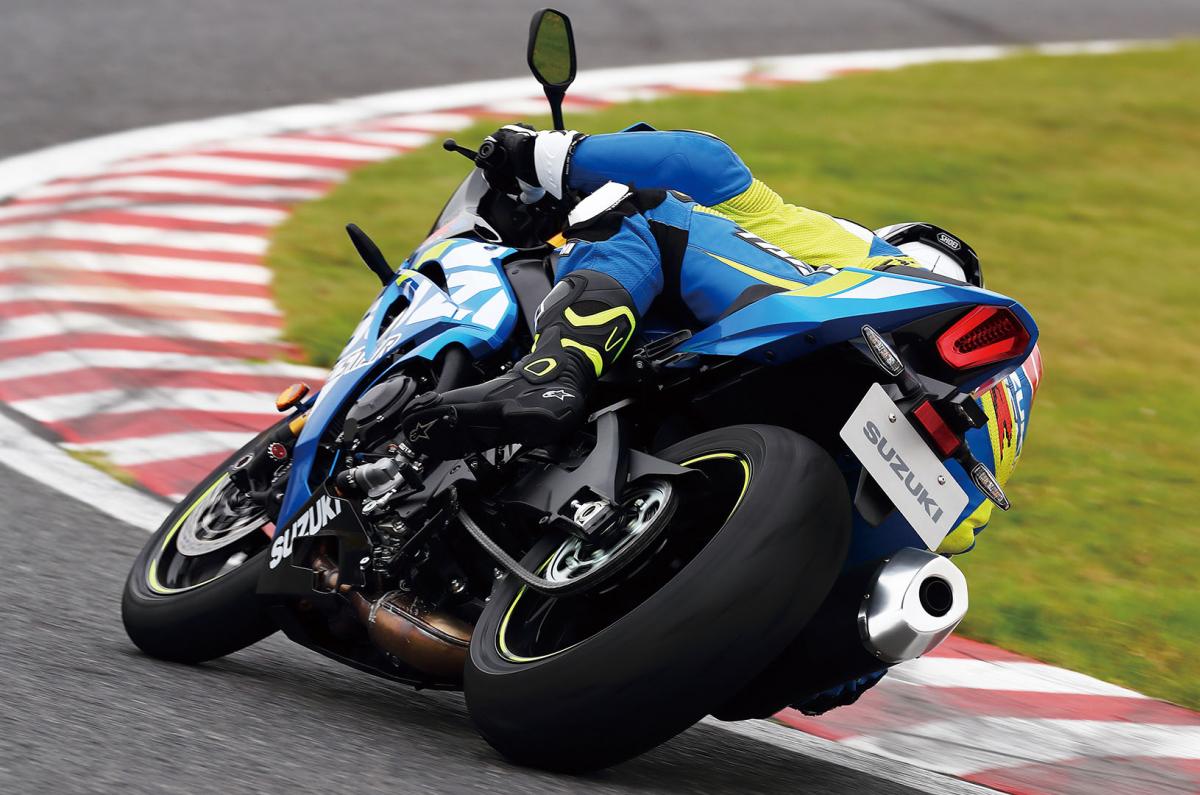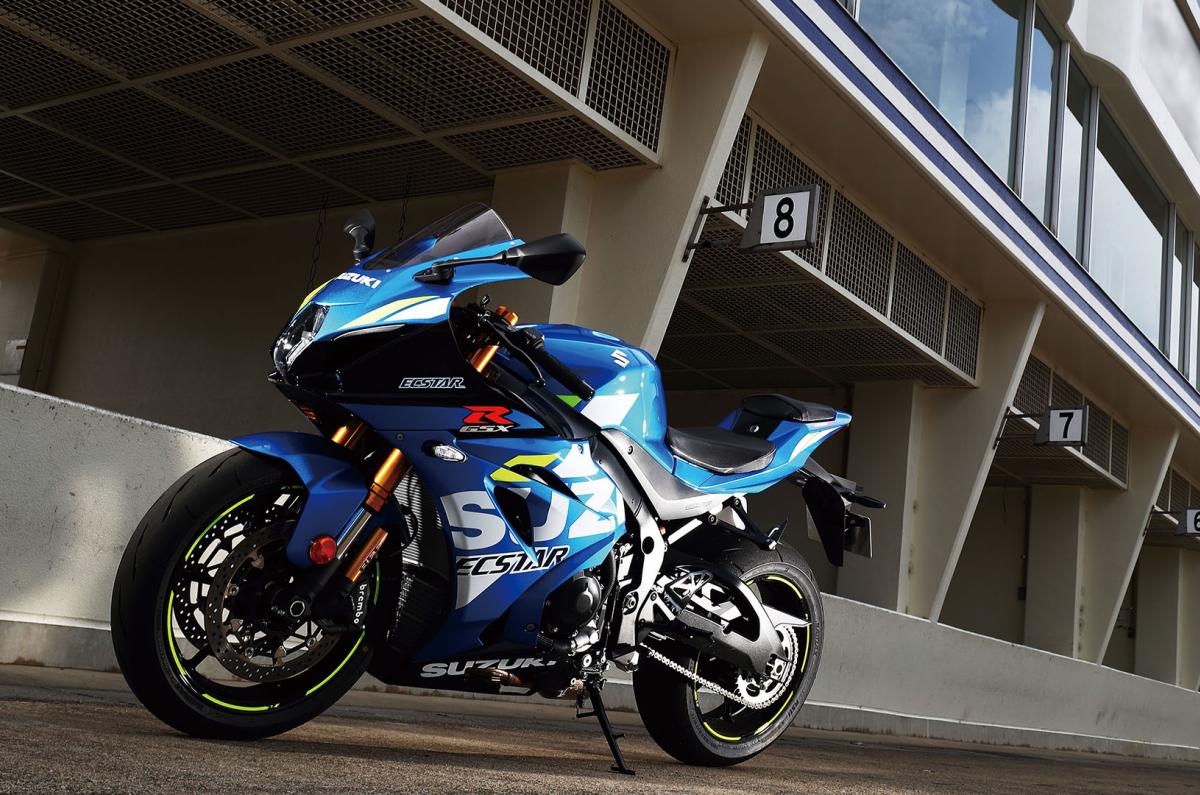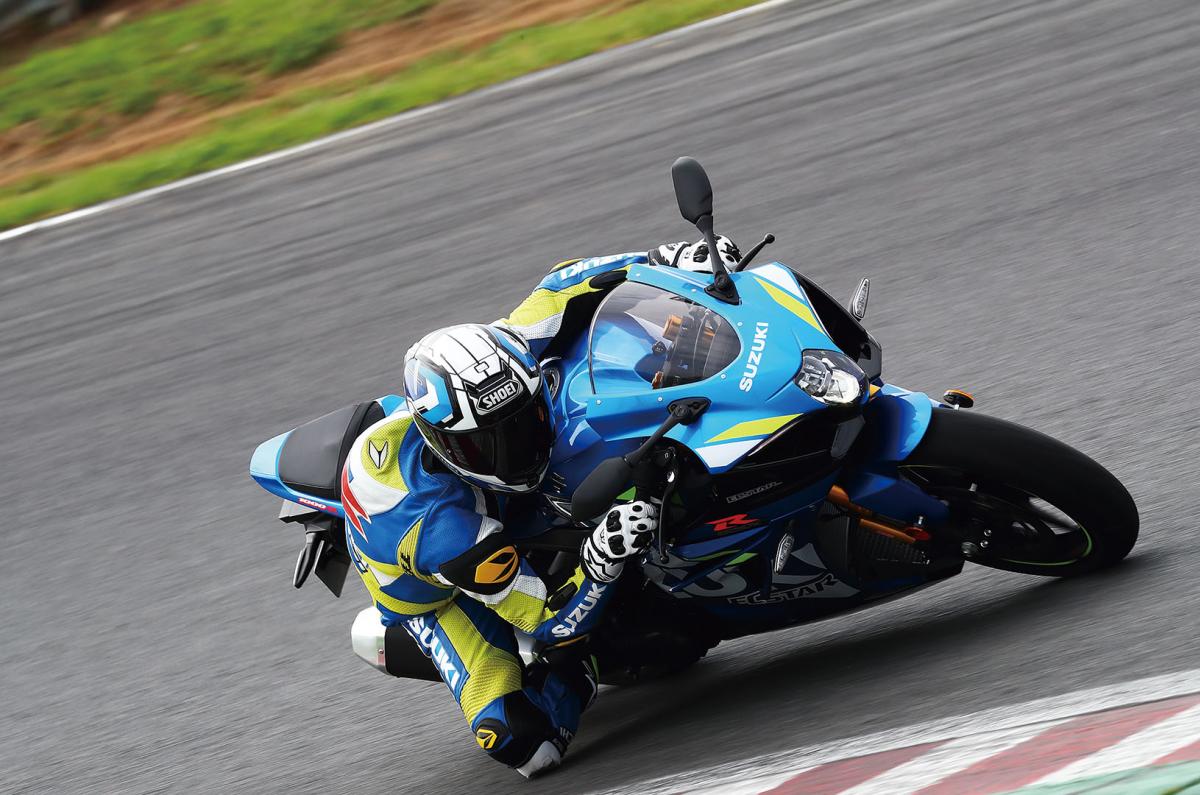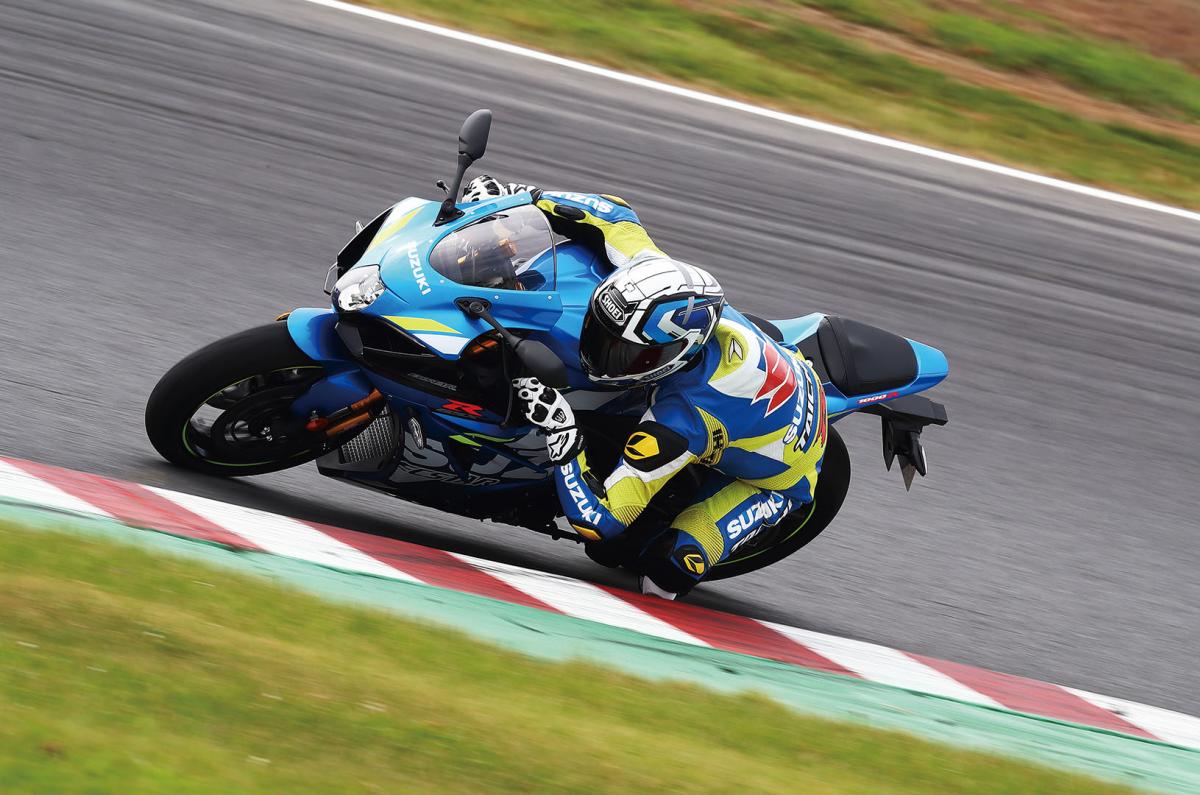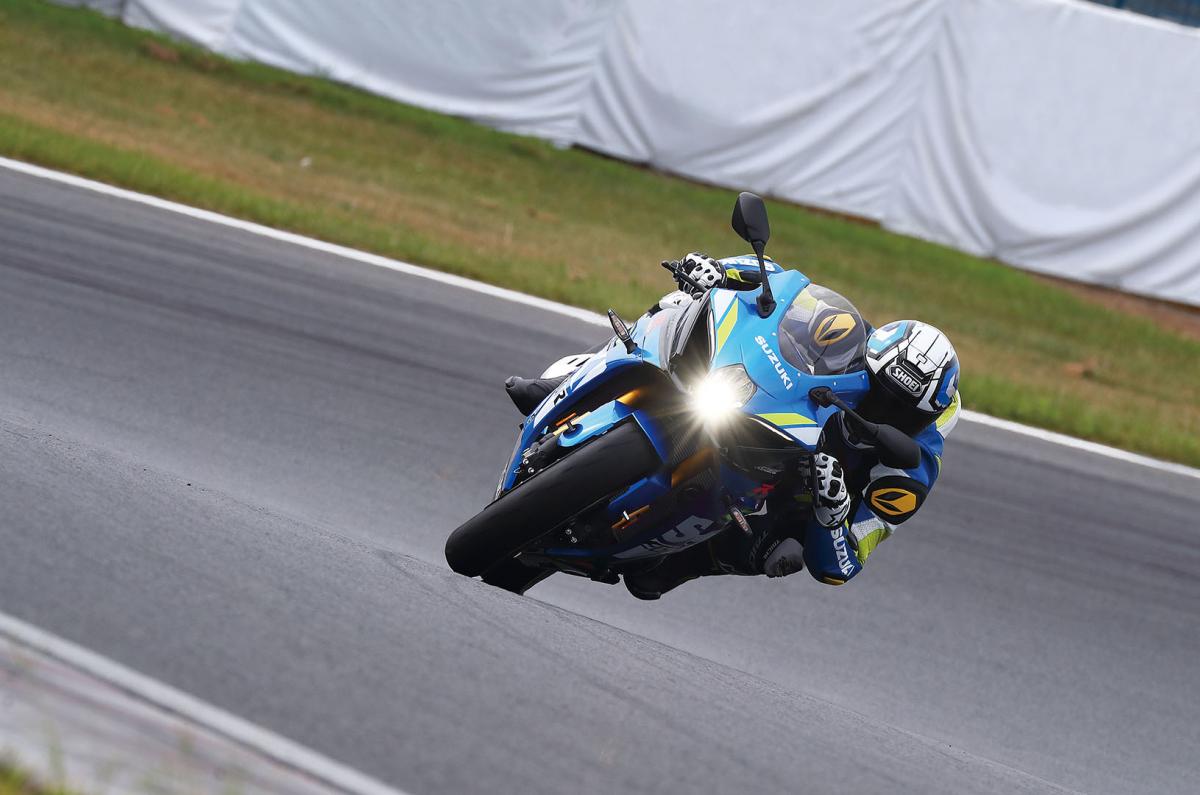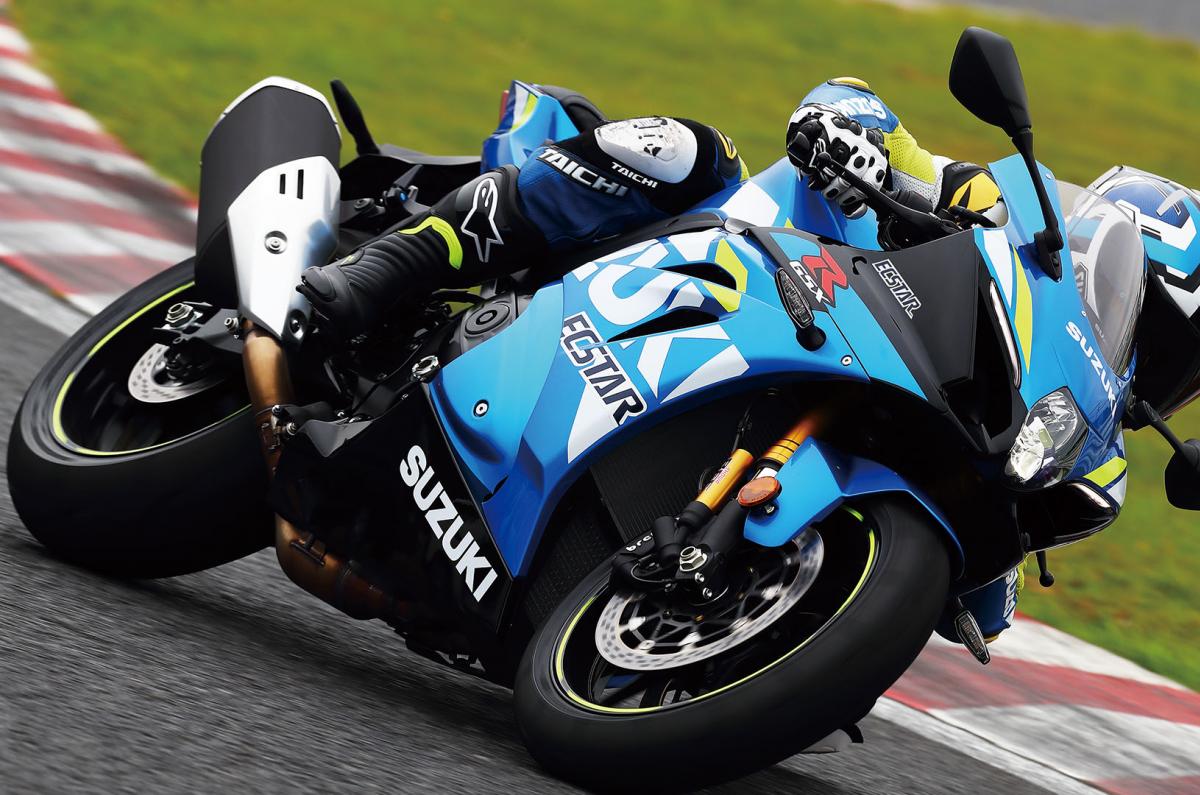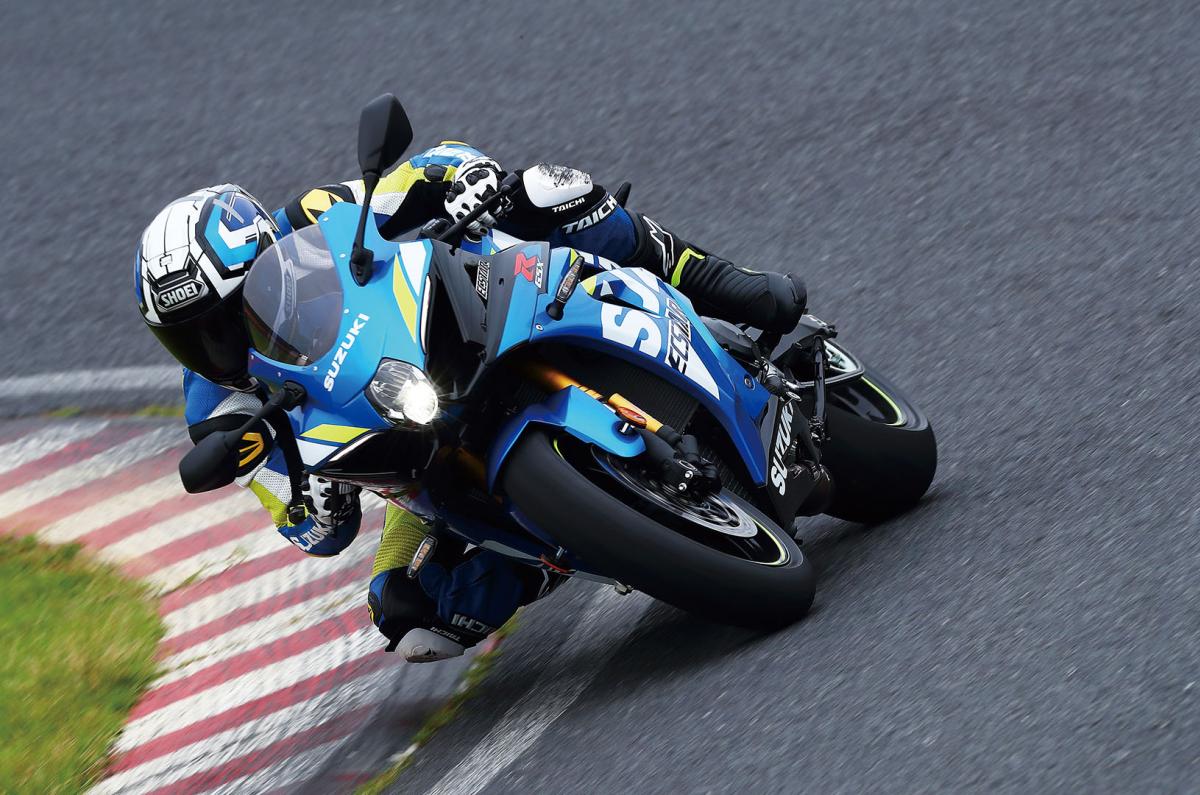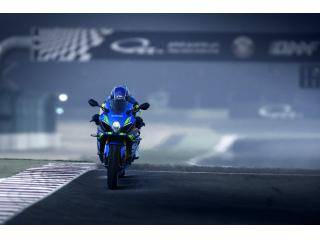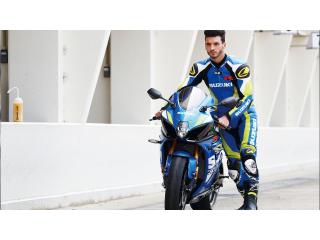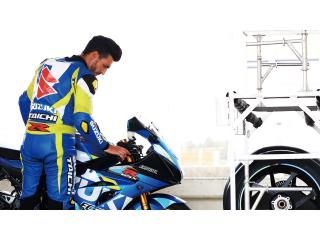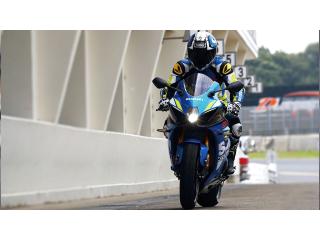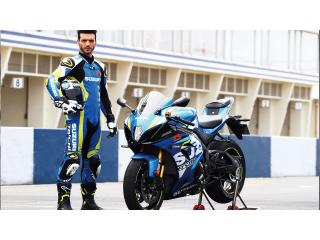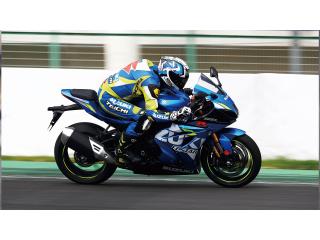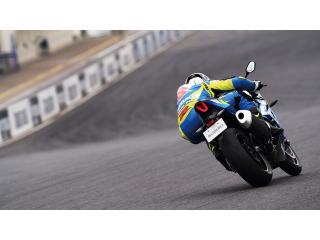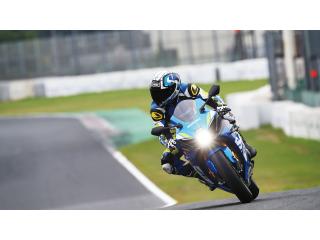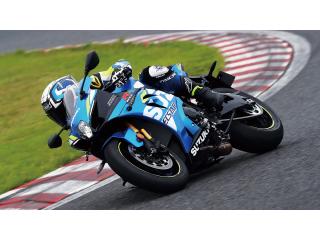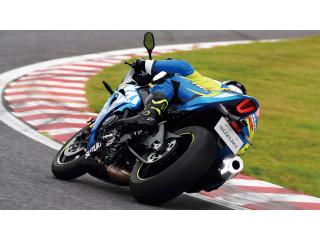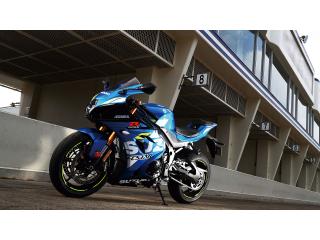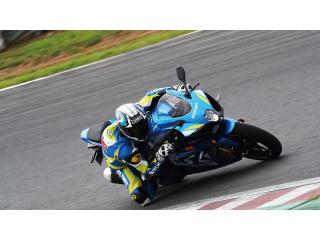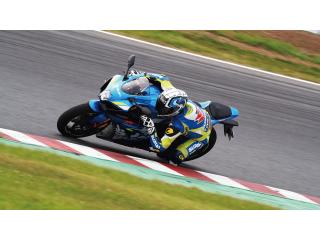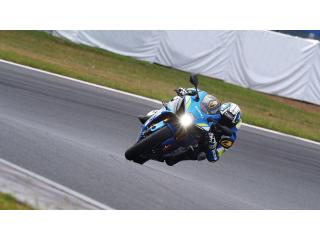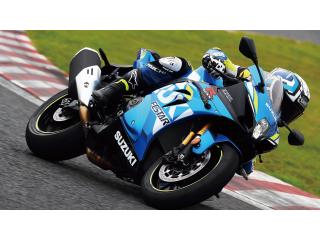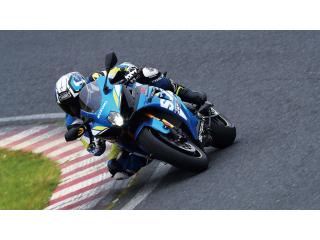 Technical specifications
Engine Displacement
1000cm3
Fuel Consumption*
6.2L / 100km

Engine Type

4-stroke, 4-cylinder, liquid-cooled, DOHC

CO2*

144 g / km

Bore x Stroke

76 mm x 55.1 mm

Fuel Tank Capacity

16 L

Transmission

6-speed constant mesh

Engine Power

148.5 kW (202 PS) / 13 200 rpm

Engine Torque

117.6 Nm / 10 800 rpm

Overall Length

2 075 mm

Overall Width

705 mm

Overall Height

1 145 mm

Wheelbase

1 420 mm

Ground Clearance

130 mm

Front Suspension

Inverted telescopic, coil spring, oil damped

Rear Suspension

Link type, coil spring, oil damped

Front Brake

Disc, twin

Rear Brake

Disc

Front Tyre

120/70ZR17M/C (58W), tubeless

Rear Tyre

190/55ZR17M/C (75W), tubeless

*

Calculated based on the Worldwide Motorcycle Test Cycle (WMTC) mode exhaust emissions measuring conditions. Actual fuel economy and riding range may differ owing to differences in conditions such as the weather, road, rider behavior and maintenance.
Download catalog
ACCESSORY CATALOG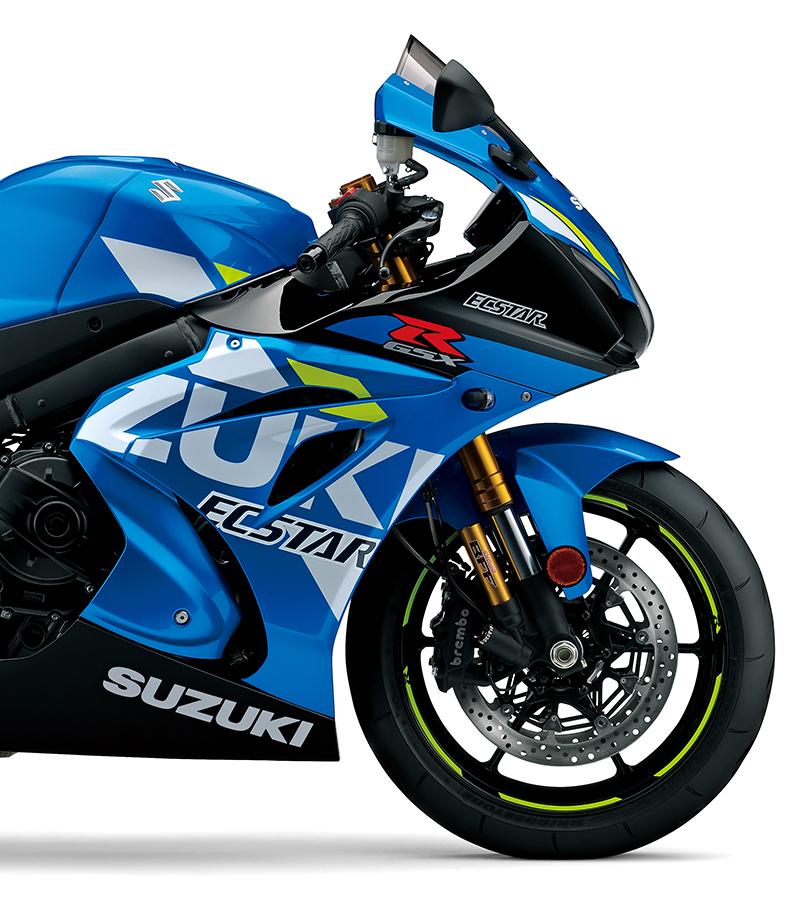 Additional models