Two Hungarians embark on a journey to Japan on their V-Strom1000XT motorcycles
Adventure riders László Kormos and László Kőszegi have set out on a journey across Asia. László Kormos has been to almost every country in Europe, but he is no stranger to Asia, either. László Kőszegi became an adventure rider after years of track riding. Before these two brave men, sponsored by Magyar Suzuki Zrt., set out on their adventure, they were given the keys of two customized V-Strom1000XT motorcycles by Head of Suzuki's Regional Motorcycle Division Edvárd Fekete and Suzuki's Regional Marketing Manager Fleischer Jefte.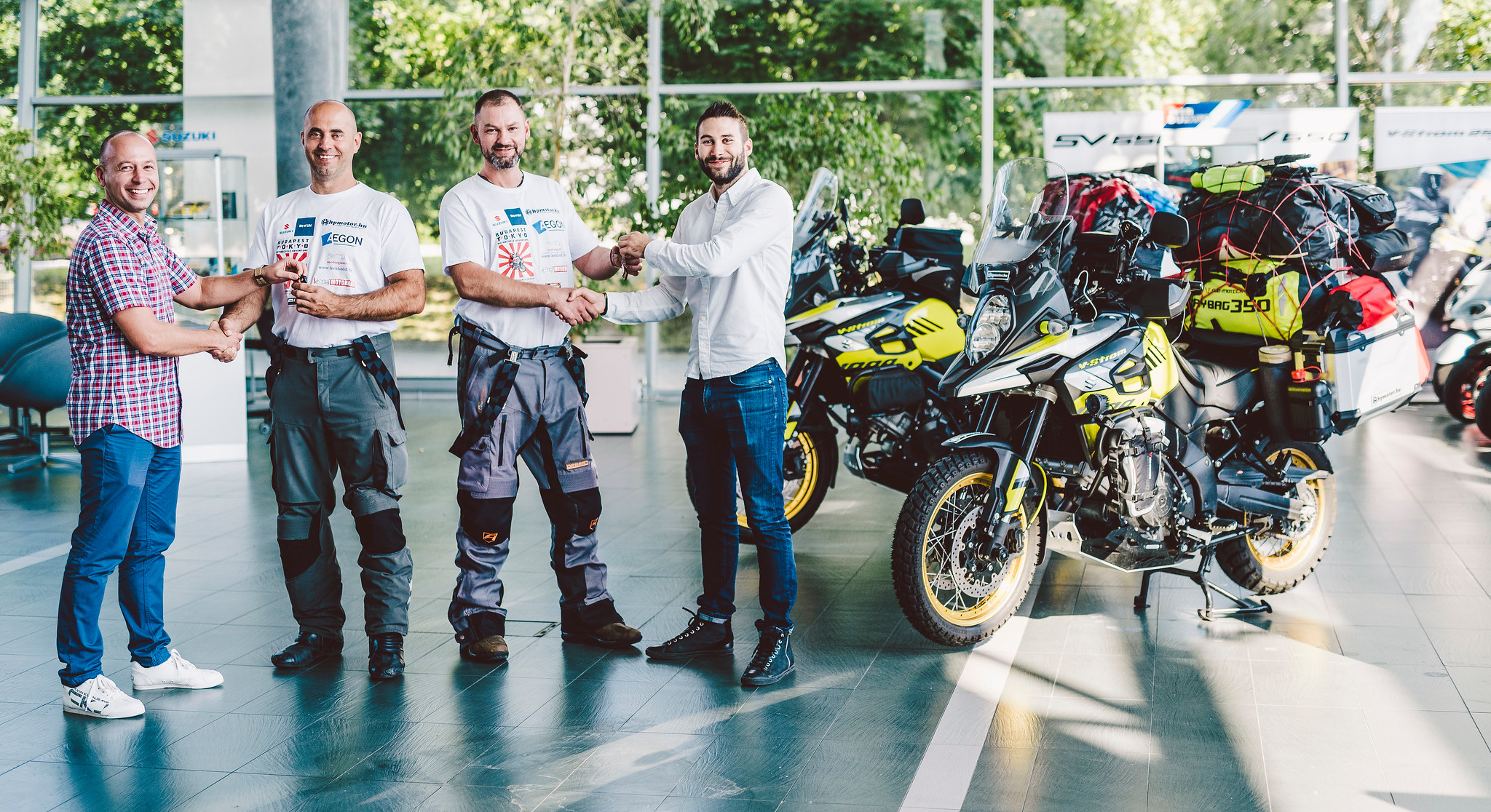 Destination: Japan. But why Asia? It was another shared passion, martial arts, that brought the two riders together, and later they went on several motorcycle tours in Europe and Africa. They both rode V-Strom 650 motorcycles on these tours, which was an excellent choice, as, having ridden hundreds of thousands of kilometres together, they consider it one of the most reliable touring enduros in the world, which has never let them down.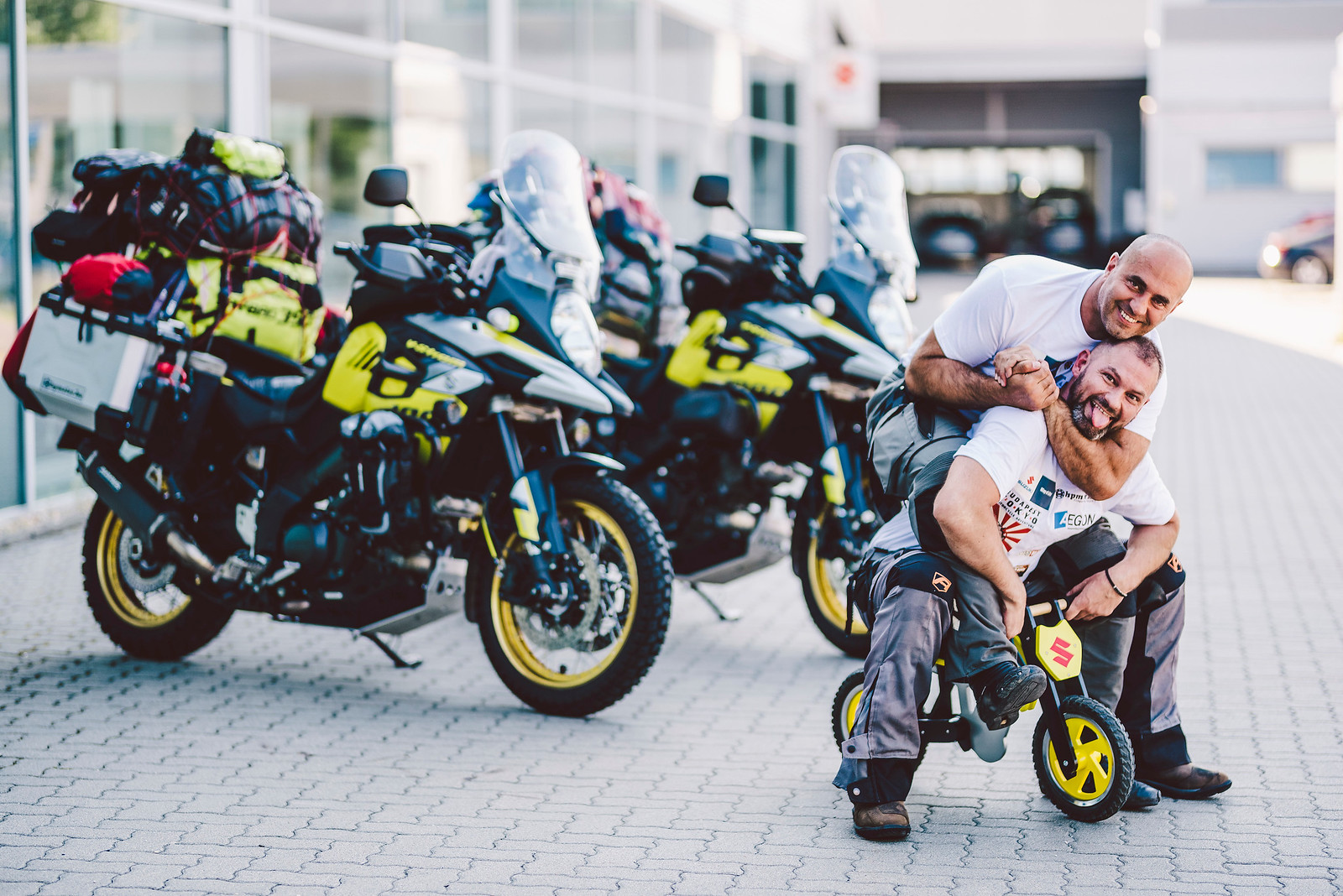 After riding through Corsica, Sardinia, Nordkapp and the west coast of Africa: Morocco, Mauritania, Senegal, Gambia and Guinea-Bissau, now it was time to explore Asia together. Martial arts is an integral part of their life, and now they're lured by it to the place of its origins, the coasts of Japan, as they get on their new V-Strom 1000XT motorcycles. There was no question about it that they would choose the new V-Strom1000XT ADVENTURE pack. Like, further details about the promotion: motorcycle, as now original case sets and brackets are available for only HUF 200,000, in a special promotion, making their journey faster and safer. We asked them about their history with Suzuki before they set out on their tour from the Budaörs premises of Magyar Suzuki Zrt.: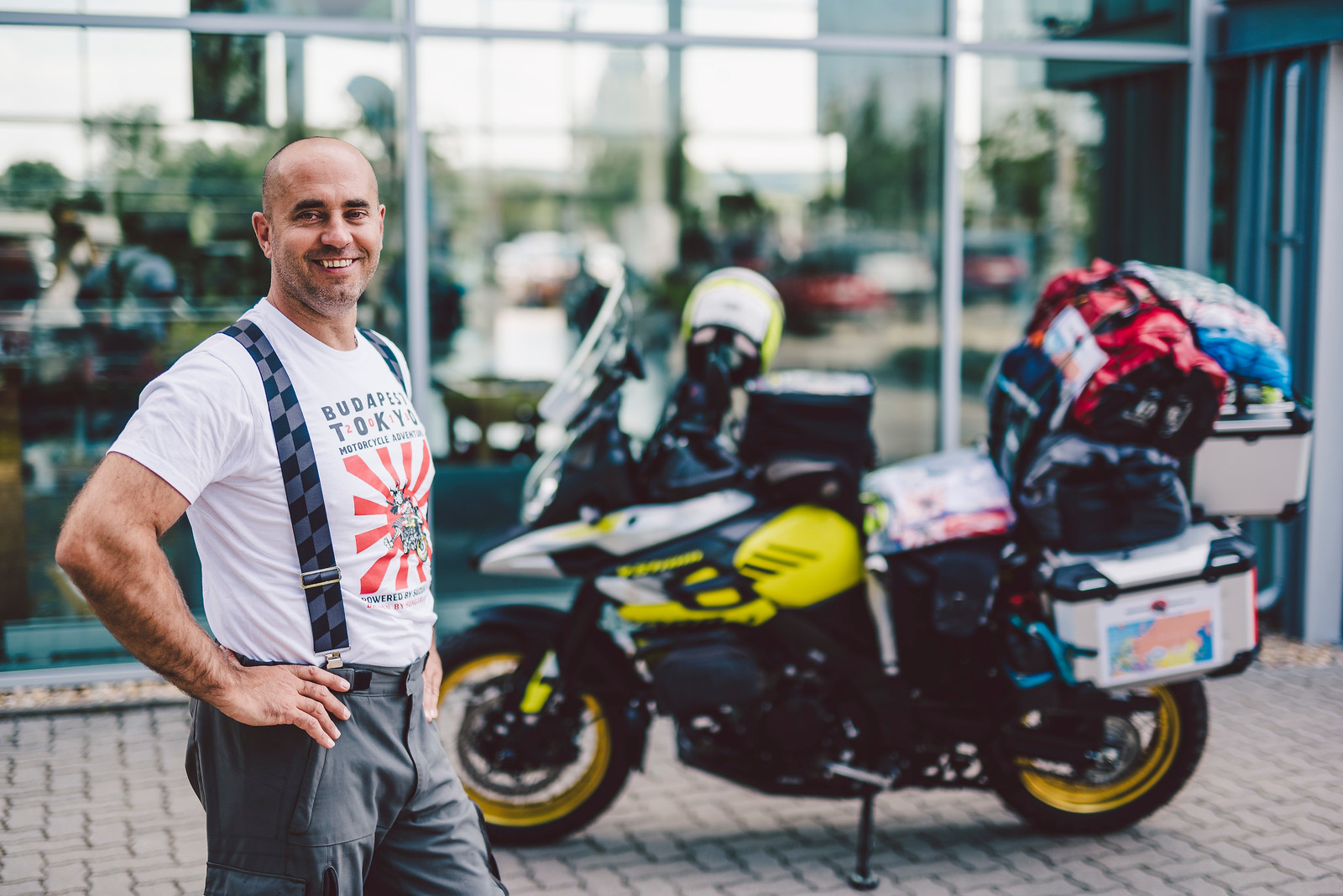 László Kormos: When I was young I bought a Suzuki GSX 400 Katana on an impulse to go on a tour in Sicily. I was young and inexperienced, I think this was why I miscalculated the costs and got only as far as Jesolo. Later, when I was more conscious about motorcycling, I rode a good old V-Strom 650. When I had the time and my girlfriend let me, I went on tours and rode hundreds and thousands of kilometres. I've been to almost every country in Europe, I've seen mountains and valleys, hairpin bends and famous sights, even in the most remote parts of the continent. When we go on a tour, we visit countries with very different cultures and landscapes from that of Hungary. These are also travels through time. We are not counting the days, we are not checking the time, we just try to live in the moment, every moment. I truly believe this is why motorcycling was invented. It is often said that it is difficult to explain to someone who does not ride why we love it so much. Maybe we don't have to explain it, but if someone listens to or reads our account and sees the photos, maybe it will light a sparkle in them, not unlike the fire we have inside."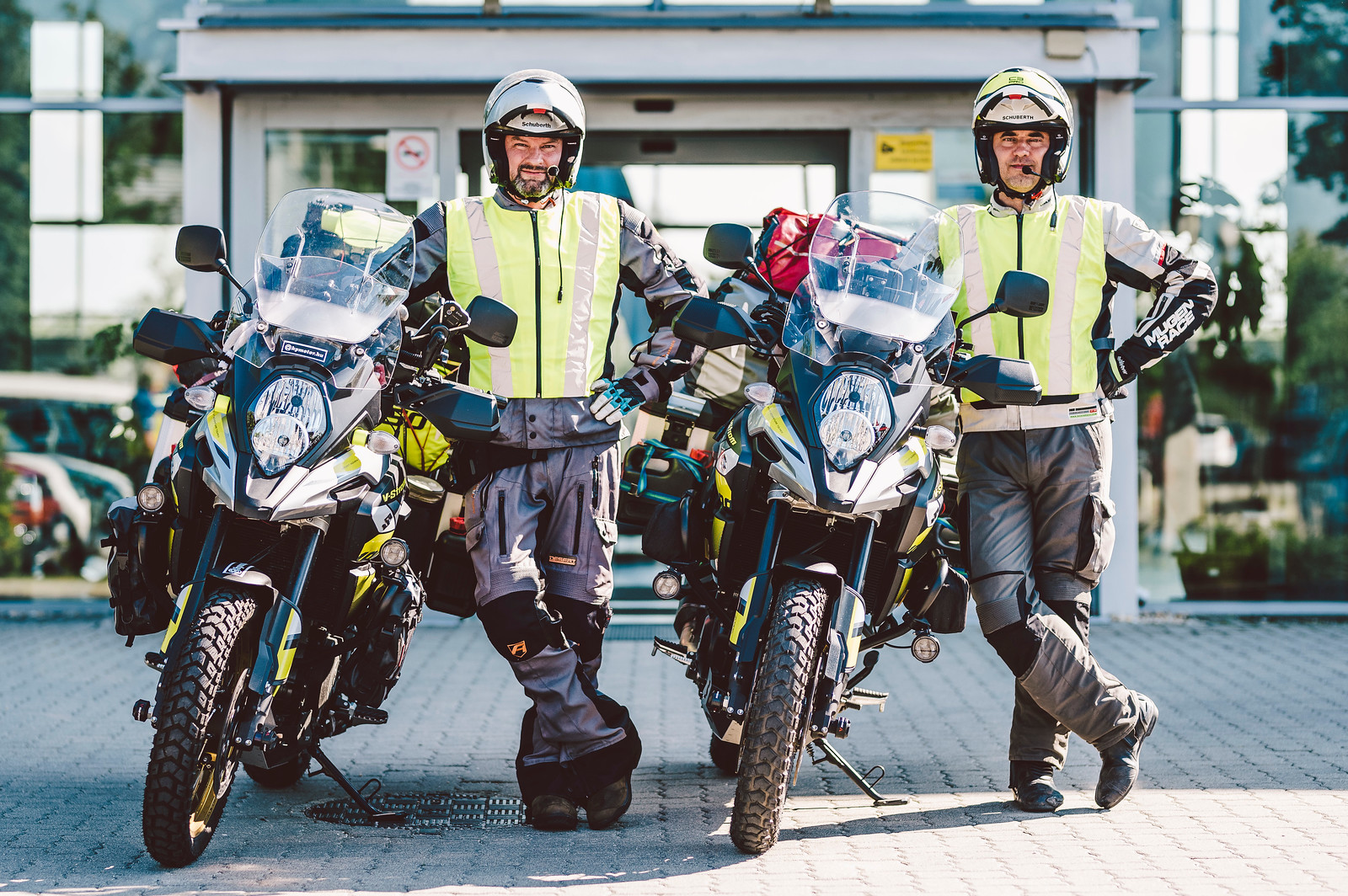 László Kőszegi: "My time as a real rider began with a Suzuki GSX-R750 SRAD. Of course, I was bold and I had a bit of fall, but once the bike was repaired and I recovered, I became more conscious and careful, and I rode everywhere. After 2003, I fell in love with track riding, I could gain a lot of experience and I was in the top 3 several times. After I met Laci Kormos, his stories hooked me on touring, so after the GSX-R I bought a V-Strom 650 to set out on my first longer tour. This was totally different from track riding, but I quickly came to like it. I used to buy tire warmers and bodywork, but now I bought a grip heater and a cylinder bag. There's a feeling I'm addicted to: To reach remote places where very few people go, where there are almost no roads... and to meet people this way I would otherwise never meet. To get to know a different world, for which you need to ride a lot."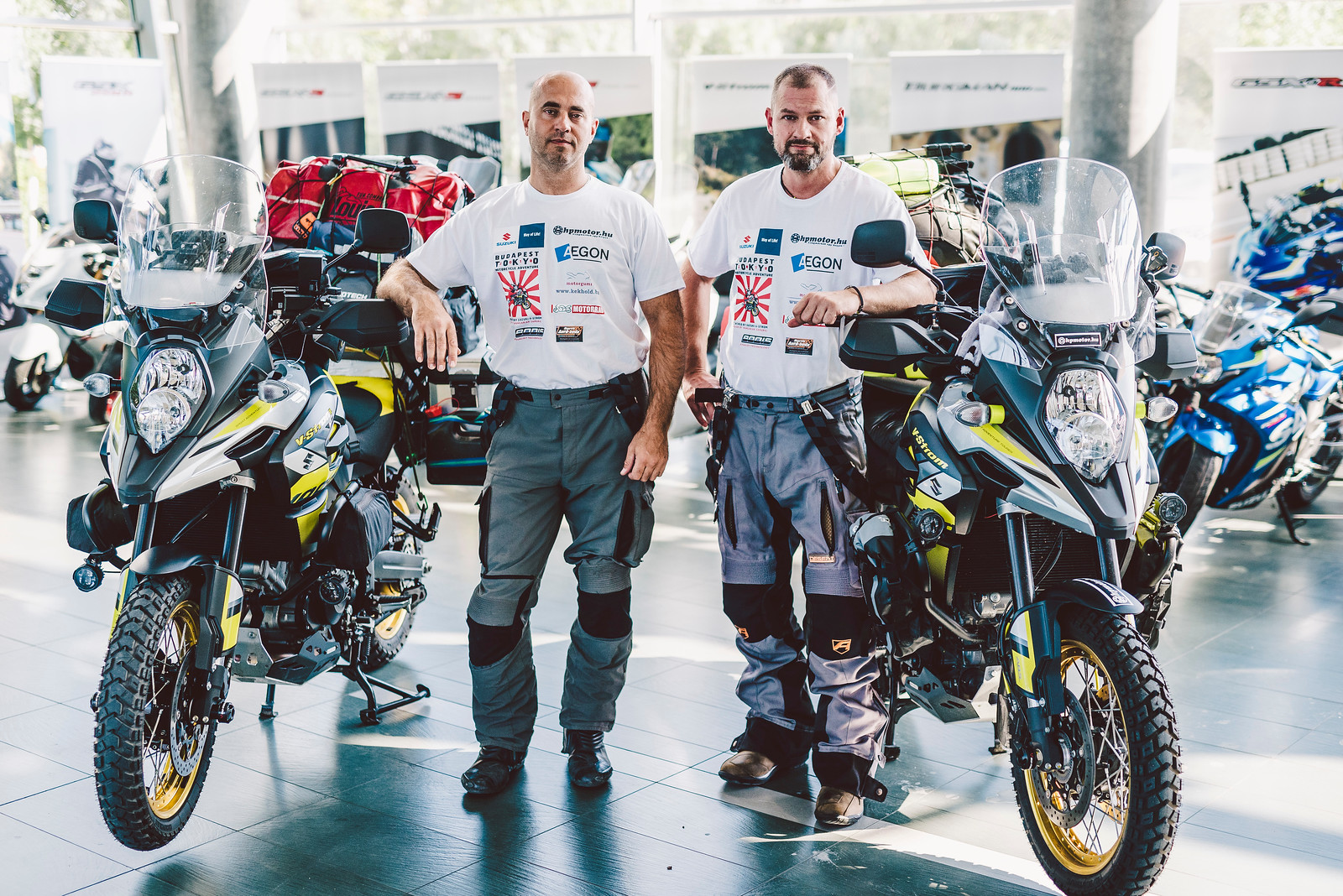 As they set out on their tour, they first go to Ukraine, through Kiev, then to Russia, and try to reach Kazakhstan as soon as possible. Because of the roads and the vast distances, they'll spend more time here, and by the time they cross the country, they will have covered thousands of kilometres. They will enter Russia again, riding towards the Mongolian border - towards a country they're both longing to see.   "If you read other people's accounts, if even half of it is true, it is an exciting and beautiful country on its own," says László Kormos.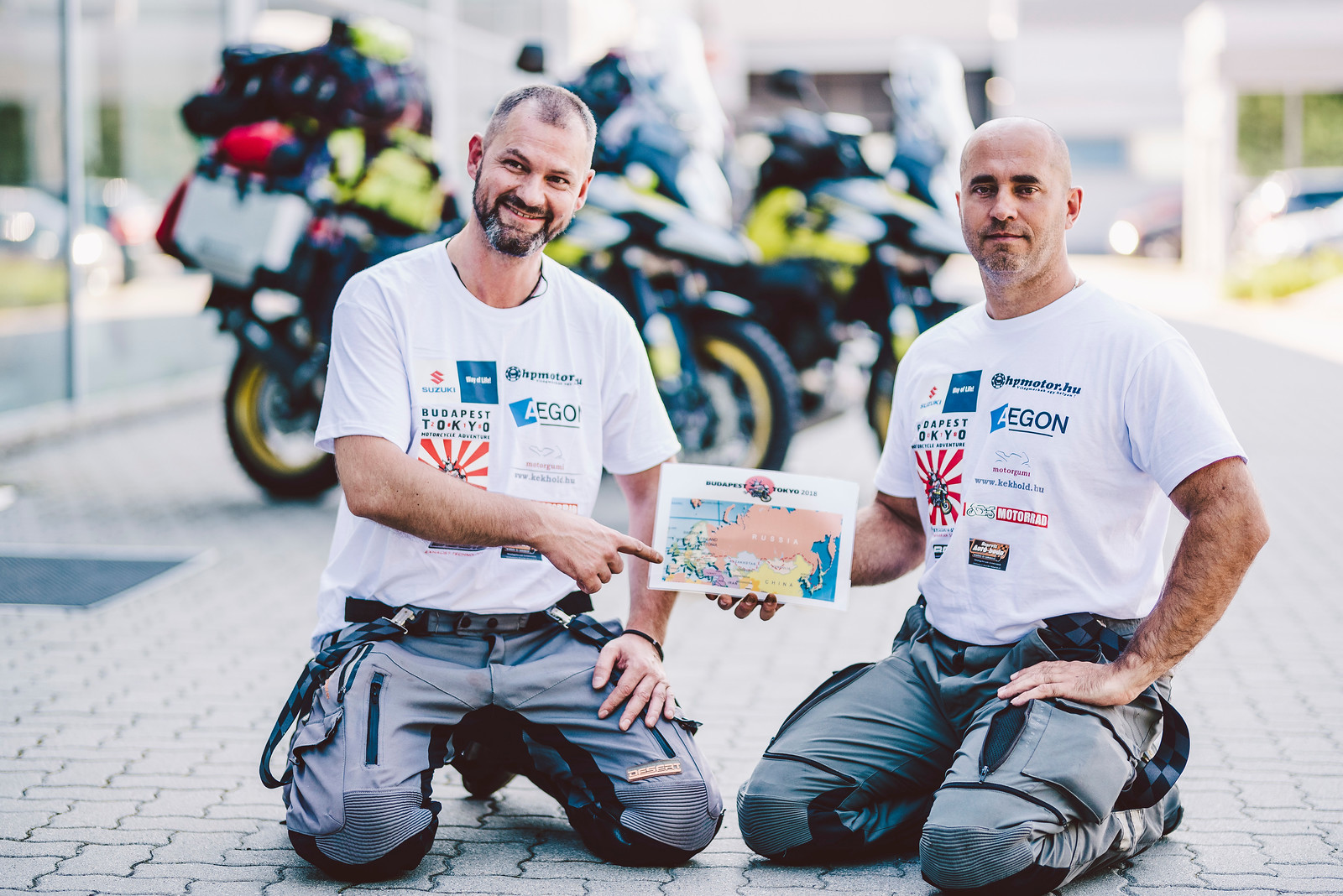 After riding through the Gobi Desert and visiting Ulaanbaatar, the capital of Mongolia, they will arrive in Siberia (Russia, again) and reach Vladivostok. If everything goes according to plan, they will have covered over 13,000 km in 33 days.   The story doesn't end here – follow the tour through their posts, photos and videos, or track them live through GPS:  
https://www.facebook.com/BudapestTokio  
We wish them all the best. Enjoy the tour, guys!