Suzuki Lean Burn Control System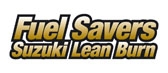 Suzuki first used the innovative Lean Burn Control System (LBCS) of fuel mixing in its DF70A, 80A and 90A models, which received a warm welcome from consumers and media alike.
The system calculates the amount of fuel needed under the specific operating conditions, and by controlling the air/fuel ratio it provides the engine with a more efficient fuel mixture. Implemented on the majority of our four-stroke models, the system significantly improves fuel economy along the entire spectrum, from low-speed operation to cruising speed.
Combined with Suzuki Precision Control, that is, drive-by-wire throttle and shift control, the system electronically modulates the flow of fuel and air, thereby broadening the RPM range in which fuel consumption is most efficient.
The combination of the two systems provides a steady throttle curve up to the top of the engine's power range.
According to Suzuki's internal tests, the new DF300 is 14% more efficient than its predecessor at cruising speed, even though it provides the same amount of power.