NEW OUTBOARD MOTORS AND FURTHER GREENING IN 2022 FROM THE SUZUKI GROUP'S MARINE DIVISION
Esztergom, 2 February 2022 – Suzuki is expanding its marine engine portfolio with a new outboard range. In line with the green objectives of Suzuki Group, the marine business unit also renewed the packaging of 376 products based on environmentally conscious considerations. As a result, they used 4039 kilograms less plastic in one year. The division wants to increase this number to 10,000 kilograms of total plastic savings in 2022.

The new DF140B / DF115B / DF100C outboard motors
The three new models of the DF140/115/100 series have a more sporty, dynamic and mono look than their predecessors, they are easily maintainable, high performance, durable outboard motors for – 16 to 24ft class – mid-size boats. The new DF140B/DF115B/DF100C are mechanical remote controller models based on the DF140BG/115BG.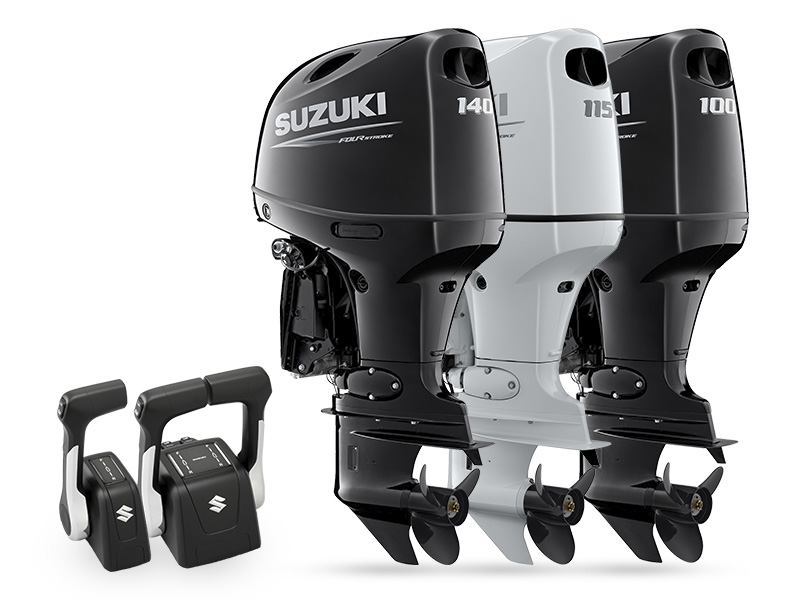 Easy maintenance
For the easier maintenance, the new models have several features: easy access oil filter, oil spill catcher and oil level gauge for which Φ15mm oil changer hoses are available to use. Thanks to the improvements, the oil filter can be replaced without removing the side cover by removing the top one. The fact that the hole for oil level gauge is widened to 15mm diameter, enabling the usage of Φ15 oil changer hoses further facilitates oil changing. Furthermore, the newly adopted Oil Spill Catcher helps to avoid the splashing of oil when changing the filter.  


Optimized operation With the replacement of the engine cover with a durable material and the optimization of the gear oil passage, the gear oil temperature is lowered cooling the gear which contributes to increasing the durability of the pinion gear. To advance torque, acceleration, engine performance, and fuel efficiency, the compression ratio was increased from 9.7 to 10.6 in the DF140B outboard motors.   The DF115B and the DF140B outboard motors made their world debut in the last months of 2021, the DF100C model will be available from April this year.  


On the road of greening Suzuki Marine division 376 made the packaging of 376 products more environmentally conscious. This way, 4,039 kilograms less plastic was used between October 2020 and November 2021. The division aims to achieve 10,000kg in total in 2022.

Click the picture below to see the gallery for this article: