Prestigious award to László Urbán
Deputy Chief Executive Officer of Magyar Suzuki Corporation, Dr. László Urbán was awarded the Knight Cross of the Order of Merit of the Hungarian Republic. The Award was handed over at the Day of Entrepreneurs on Friday in the Palace of Arts of Budapest.
Based on the proposal of the Prime Minister of Hungary, the President of the Republic of Hungary awarded the prestigious Knight Cross of the Order of Merit to Dr. László Urbán, Dep. CEO of Magyar Suzuki.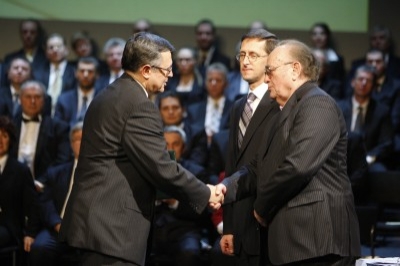 Dr. Urbán has been managing Magyar Suzuki's governmental and industrial relations for 4 years. Throughout these years his main duties covered the professional representation of car manufacturing at various local, countrywide and international forums. Besides his other expert areas like the corporate social liaisons of Suzuki and his intensive role in the regional automotive and economic councils, he also facilitates a more comprehensive and wider scale approach for the company's activities in the field of innovation. Dr. Urban has a PhD degree in Economics and had worked for 30 years in the financial and private enterprises sector prior to Suzuki.