International Ambulance increases its Suzuki fleet
International Ambulance, an organization providing central ambulance service for the Tápió-vidék Multipurpose Subregional Association, has purchased three new Suzuki cars to increase its fleet. The three-door Grand Vitaras, from the Suzuki Plusz authorized dealership in Újbuda, will be a great help for the International Ambulance, providing services on terrains and boondocks that are hard to access.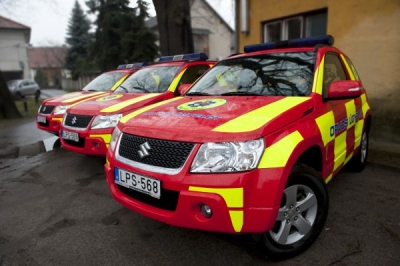 The Suzuki Plusz dealership and the International Ambulance Service Kft. have a six-year history of good cooperation. Established in 2004, the health service company has, so far, owned 40 Suzukis for its fleet consisting of 60 cars. At present, International Ambulance has several Vitaras and Jimnys and in addition to that has Ignises and Swifts for smaller cars. The three new Grand Vitaras in the line of battle to support the dedicated work of the ambulance personnel are reliable heavy duty vehicles that can be used even in the hardest conditions, and will be of great help for the ambulance service that often receives calls from small remote houses or the boondocks.