SEAHELP HAS ALSO CHOSEN SUZUKI OUTBOARDS
The SeaHelp water lifeguard service only has a few secure points when combating the many challenges involved in helping others, and one of these is the perfect outboard by Suzuki!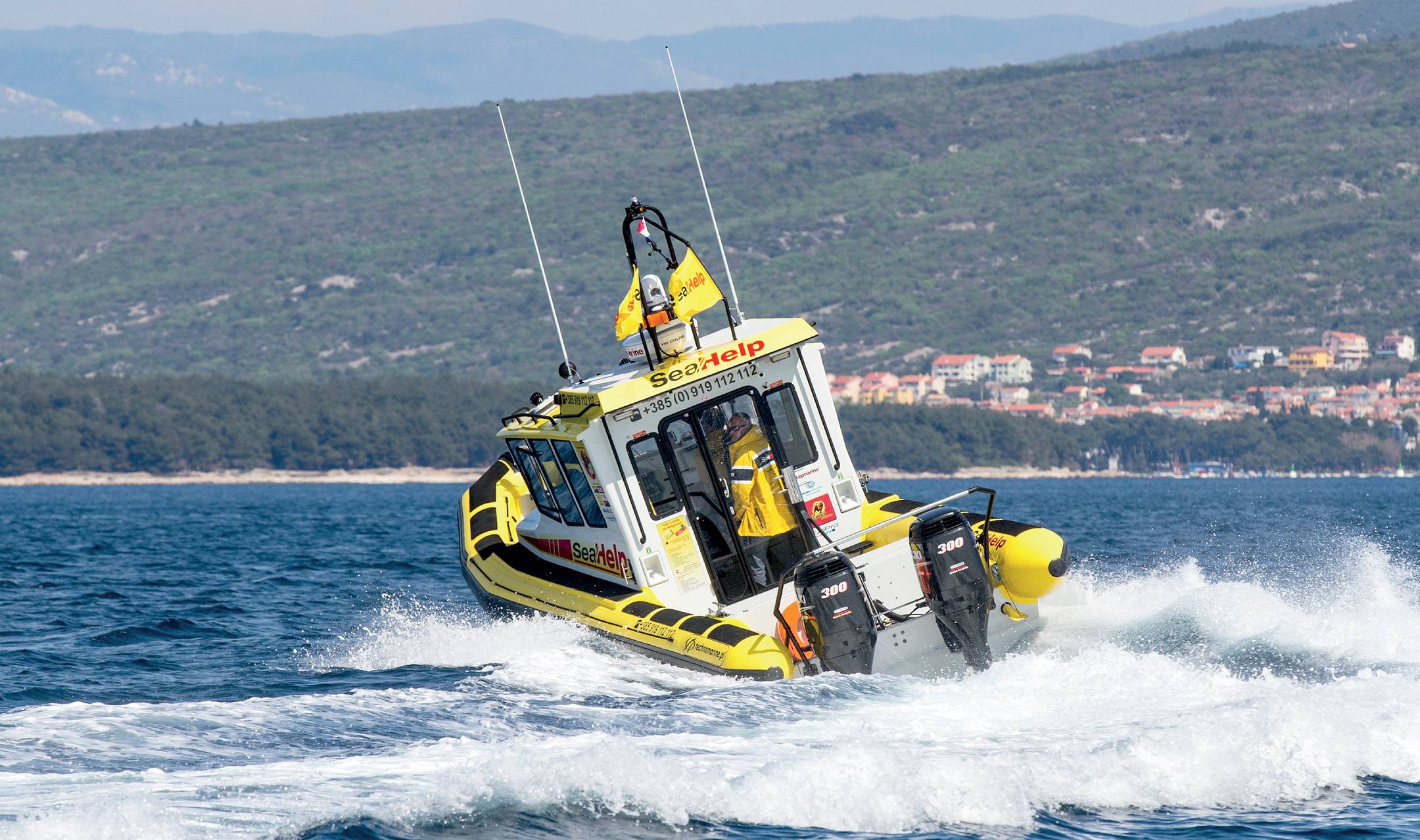 Often every minute counts when the SeaHelp center gets a call for help. A minute late and someone can be hurt or a boat wrecked. Every single action by our rescue crew is vital – and in emergencies we have to be able to completely trust our own equipment. That is one of the main reasons SeaHelp has chosen the highly regarded Suzuki outboards. The DF 300 is well-known among professionals for its performance, reliability, and low fuel consumption.
SeaHelp's rescue boats, which are 10 meters long, run on two Suzuki engines each. The 600 hp combined engine power propels the 4.85-ton boat at a speed of 48 knots. And what is more: the dual engines can tow up to 150 tons, so even luxury yachts can count on SeaHelp to tug them to safety.
The Suzuki engines need to prove their worth in the everyday life of our technical rescue team; a life that is far from easy. During the main boating season SeaHelp gets multiple calls every day on the Croatian coast alone. In 2015 boats equipped with Suzuki outboards handled 688 at-sea problems, which means a total of 1,804 operating hours and 13,478 kilometers. For your average recreational vessel, those numbers are off the charts!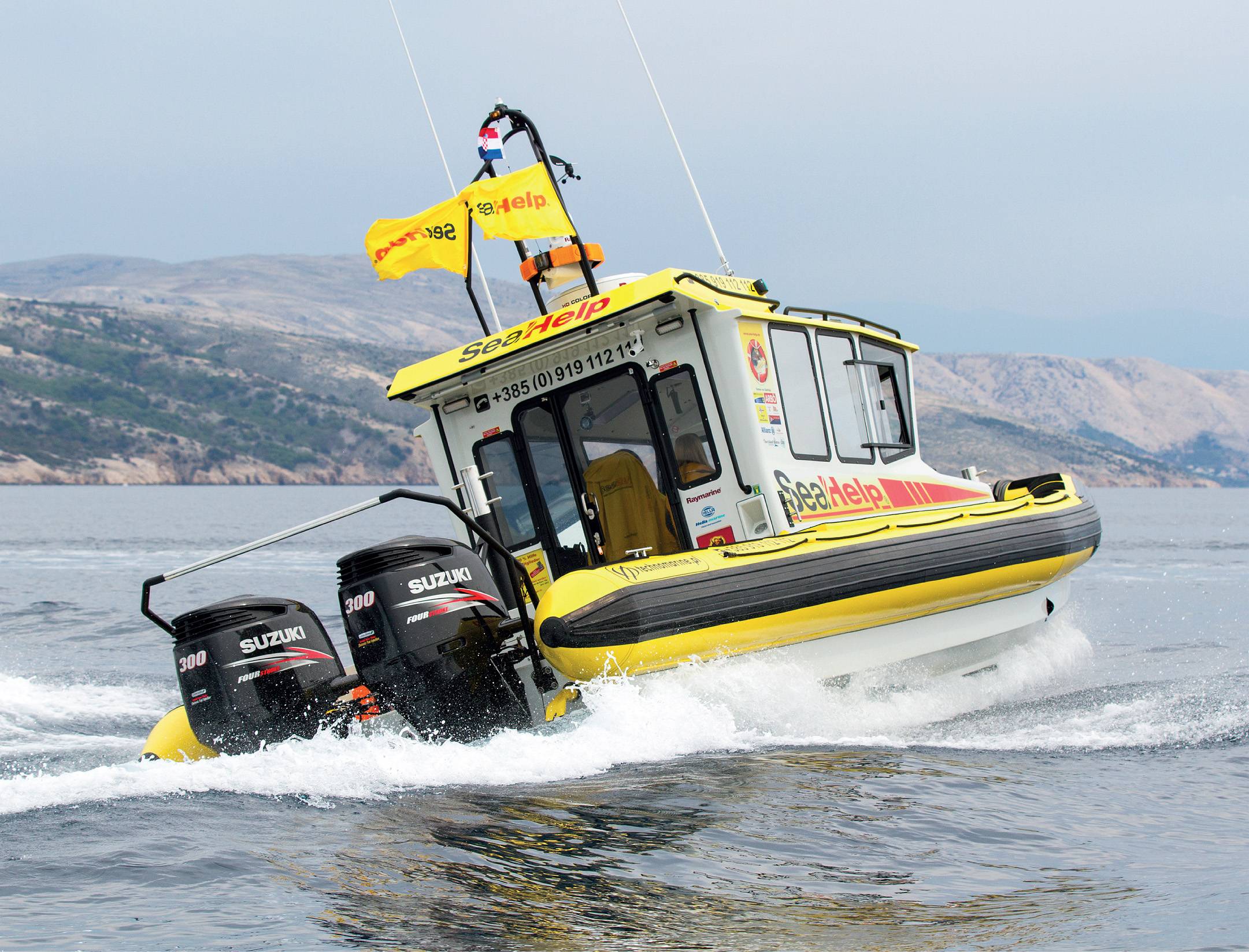 In this kind of work, you obviously need engines you can rely on. SeaHelp's technical assistance service operates 24/7 and our switchboards are nearly flooded whenever there's a storm. At such times our rescue crews are on the go for 20 hours a day, the engines need to keep running for days on end without a rest. They have to serve us perfectly round the clock so we can serve others.
Maximum performance is a must when SeaHelp's rescue involves towing in a disabled boat. Our boats are able to sail against the wind and shrug off churning waves, and can safely pull a 100 ton or heavier luxury yacht to safety inside a harbor where the spectacle alone tends to draw crowds. To illustrate: the Suzuki outboard wouldn't have even a shadow of a problem in towing the biggest yacht ever to be shown at the Dusseldorf Boat Show.
Of course, with some accidents a simple tow isn't enough. In those cases, the assistance service really has to outperform itself! The top cause of this kind of calamity is undersea rocks and the boats that crash into them and can't get loose. Even with salvage balloons, getting a distressed boat off a jagged rock puts the engines under maximum strain. And those engines are not allowed to succumb to overheating, even when performing under a scorching sun. Furthermore, the engines have to operate as smoothly as a precision watch, to prevent an already damaged hull from further mangling during the rescue operation.
Our Suzuki outboards have never failed, even under extreme conditions, as long as we keep to the manufacturer's maintenance schedule. Marko Orlic, who heads rescue operations at SeaHelp, says the following: "We've been using Suzuki outboards for years. When compared to other manufacturers, Suzuki engines were by far the best performers even under extreme conditions." Asked if he would recommend Suzuki outboards to SeaHelp members, he responded with a definite 'yes'. "If an outboard can perform faultlessly under the conditions that our people and equipment have to face every summer, recreational sailors are guaranteed to have a great deal of fun with a Suzuki motor."
To learn more about SeaHelp's rescue and salvaging operations over the years, check out www.sea-help.eu.