INTRODUCING THE NEW SUZUKI DF9.9BES OUTBOARD
Suzuki model DF9.9 BES is a new member in our portable, drive-by-wire family of outboards (DF20A / DF15A / DF9.9B / DF9.9A / DF8A / DF6A / DF5A / DF4A / DF2.5). This outboard is one of the most popular ones in Hungary, built on the largest engine block of the portable series, DF20A.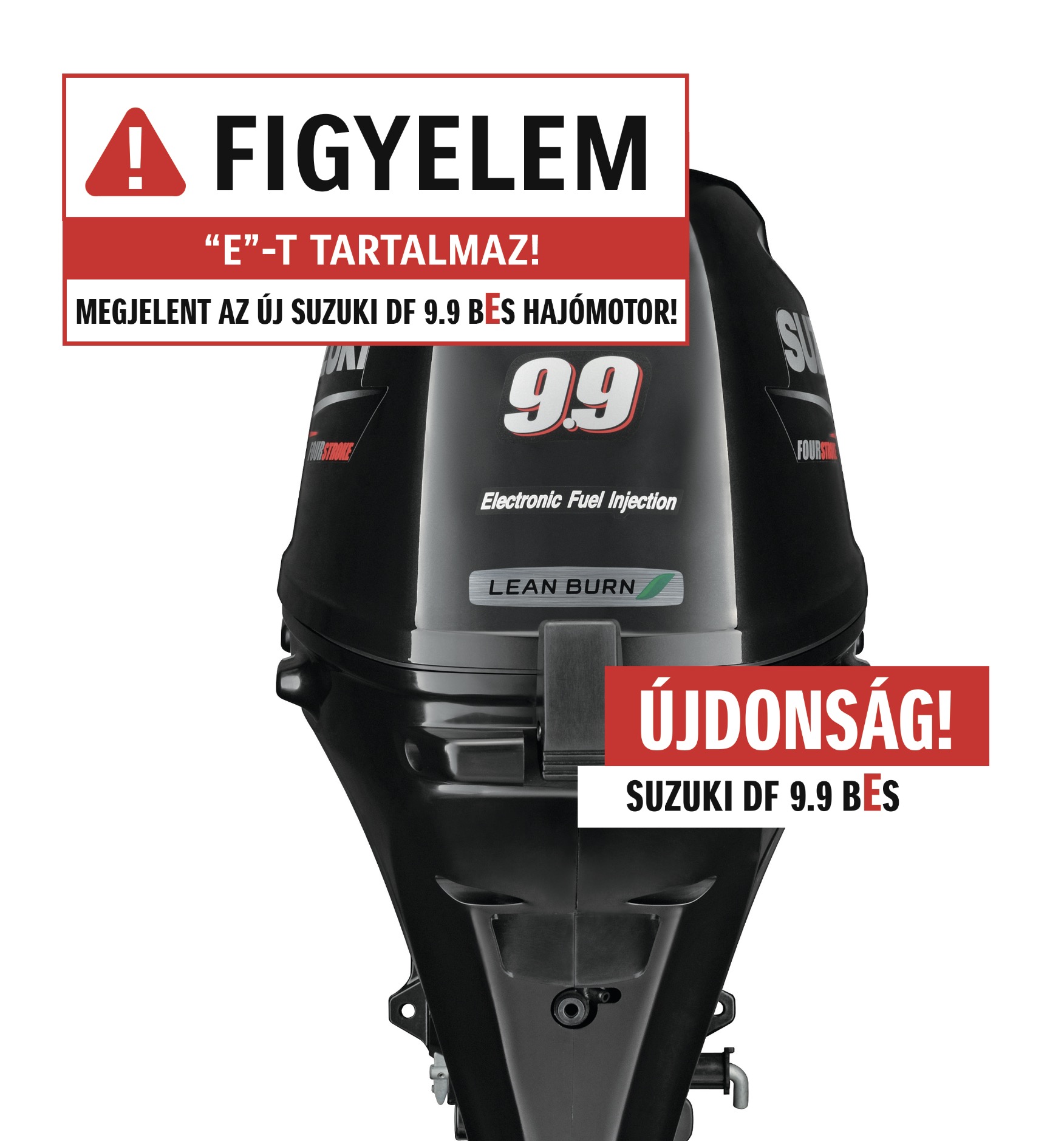 The new Suzuki DF9.9 BES features all the useful functions included in Suzuki DF15AES and Suzuki DF20AES, which means that besides the tiller it is also equipped with recoil and electronic starting capabilities. What's more, a full battery charger set is also included with the product.



Lean Burn technology
The system calculates the amount of fuel needed under the specific operating conditions, and by controlling the air/fuel ratio it provides the engine with a more efficient fuel mixture. Implemented on the majority of our four-stroke models, the system significantly improves fuel economy along the entire spectrum, from low-speed operation to cruising speed.
Combined with Suzuki Precision Control, that is, drive-by-wire throttle and shift control, the system electronically modulates the flow of fuel and air, thereby broadening the RPM range in which fuel consumption is most efficient. The combination of the two systems provides a steady throttle curve up to the top of the engine's power range. According to Suzuki's internal tests, the new DF300 is 14% more efficient than its predecessor at cruising speed, even though it provides the same amount of power.

 Suzuki DF9.9 BES is equipped with Suzuki Lean Burn technology, Over-Rev Limiter, Oil Pressure Caution System, and Fresh Water Flush Port. The model available in Pearl Nebular Black housing is of course backed with Suzuki Anti-Corrosion System.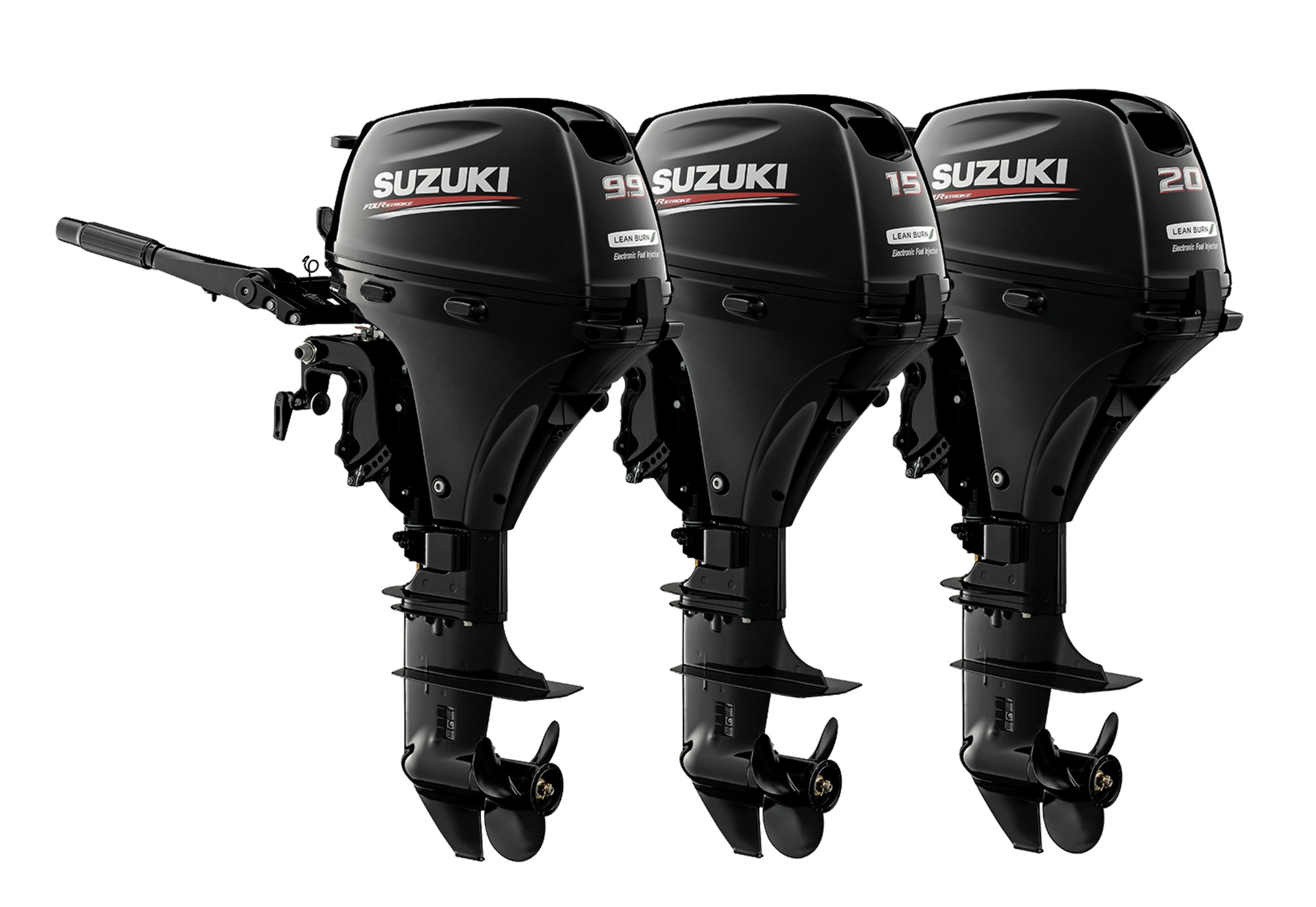 Technical details:

| | |
| --- | --- |
| RECOMMENDED TRANSOM HEIGHT MM | S: 381  |
| STARTING SYSTEM | Manual |
| WEIGHT KG *1 | S: 44  |
| ENGINE TYPE | OHC |
| FUEL DELIVERY SYSTEM | Battery-Less Multi-Point Sequential Electronic Fuel Injection |
| NO. OF CYLINDERS | 2 |
| PISTON DISPLACEMENT CM3 | 327 |
| BORE X STROKE MM | 60.4 x 57 |
| MAXIMUM OUTPUT KW | 7.3 |
| FULL THROTTLE OPERATING RANGE RPM | 4,700–5,700 |
| STEERING | Tiller |
| CHOKE | - |
| OIL PAN CAPACITY LIT. | 1.0 |
| FUEL TANK CAPACITY LIT. | 12 |
| IGNITION SYSTEM | Digital CDI |
| ALTERNATOR | 12 V 6 A |
| ENGINE MOUNTING | Shear Mount |
| TRIM METHOD | Manual Trim & Tilt |
| GEAR RATIO | 2.08:1 |
| GEAR SHIFT | F-N-R |
| EXHAUST | Through Prop Hub Exhaust |
| PROPELLER SELECTION (PITCH)* | 7"–12" |
 Enjoy your boating time with the new, lightweight, simple-to use and safely portable outboard, which makes your boating experience even more delightful, whether you are fishing or just boating for the fun of it! The strengths of model DF9.9 BES include reliability and fuel-efficiency, that are so characteristic of Suzuki's outboard products. Look for Suzuki DF9.9 BES outboards at the authorized Suzuki Marine Dealers in Hungary.

 This article does not constitute an offer; it is intended for informative purposes only. Please visit www.suzuki.hu/marine/hu/markakereskedok and get prior detailed information, as well as technical details and availability of models at our Suzuki Marine Dealers. We reserve the right to change such information without prior notice. The pictures used are illustrations only. We exclude liability for potential errors. Unauthorized use of the advertisement or any part thereof will entail legal proceedings. All rights reserved. Magyar Suzuki Corporation